Looking for their third straight win, the Bears will face a formidable challenge Thursday in Detroit when they battle a Lions defensive line that's among the best in the NFL.
"They're physical. They're penetrators. They're relentless to the football," coach Marc Trestman said Tuesday at Halas Hall. "That's where it all starts for them up front; not just the way they play the pass but they play the run extremely well."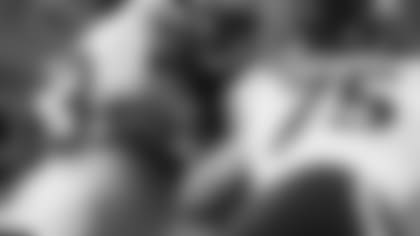 Roberto Garza and Kyle Long team up to block Ndamukong Suh last season in Detroit.
The Lions' front four is led by tackle Ndamukong Suh and end Ziggy Ansah and also features tackle C.J. Mosley and end Jason Jones. Tackle Nick Fairley has been sidelined since hurting his knee Oct. 26 in a win over the Falcons in London.
Quarterback Jay Cutler, who has been sacked 28 times in 10 games against the Lions since joining the Bears in 2009, knows the importance of getting the ball out of his hand as soon as possible.
"You can't hold onto anything," he said. "One, two and you've got to get to No. 3 pretty quickly. They do a great job of collapsing the pocket. They're coming off the edge and they've got the big guys in the middle that are forcing the guards and everybody right into your lap. They make it really difficult."
The Bears would like to throw the ball down the field more Thursday in Detroit than they did last Sunday against the Vikings when their longest completion to a wide receiver was just 16 yards. But it certainly won't be easy against a fierce defense backed by its loud home crowd.
"Not a lot of people are taking shots because there's just not a lot of time," Cutler said. "We're going to have to invent some ways to get creative and find ways to push the ball down [field] a little bit because it's going to be really hard to dink and dunk these guys five [yards] at a time all the way down the field."
Cutler is hoping that some of his receivers are able to turn short passes into long gains.
"Against a team like this you've got to get the ball out, you've got to get some catch-and-runs," he said. "You've got to break some tackles because you're not going to be able to consistently push it down 15-20 yards. A lot of things are going to be under 12 yards, under five yards, so you've got to get some catch-and-runs. That's where you're going to get your pushes down the field."
The Bears can try to replicate what the Patriots did last Sunday in beating the Lions 34-9 in New England. Tom Brady completed 38 of 53 passes for 349 yards with two touchdowns, one interception and a 94.0 passer rating. Like Cutler last week, Brady's longest completion to a wide receiver was 16 yards.
"They threw the ball very quickly," said offensive coordinator Aaron Kromer. "They took advantage of what they were giving them, and they found the open guy quickly and got rid of the ball before the pass rush could get there most of the time."
The Bears could also employ some designed rollouts like they did two weeks ago in a win over the Vikings, a tactic that Cutler fully endorses.
"You've got to move the pocket," he said. "If you're throwing the ball 40-50 times from 6-7 yards deep, they're going to get home eventually. We've got to run the ball, kick it out, move the pocket and play-action them. We've got to find ways to keep them off balance."
Establishing the run with Kyle Long also will be challenging against a Lions defense that ranks No. 1 in the NFL on the ground, yielding just 70.7 yards per game.
"They've penetrated the offense very well with their d-line," Kromer said. "And then their linebackers are extremely aggressive. They're not big, but they get off blocks and they get edges. When they decide that you're running in a certain hole or there's a hole that they have to fit, they do a great job of dipping their shoulder and getting under people and getting into the backfield to make the tackle. It's been rough sledding against them."