Bears coach John Fox announced Monday that veteran receiver Eddie Royal will be placed on injured reserve with a toe injury that has bothered him since mid-October.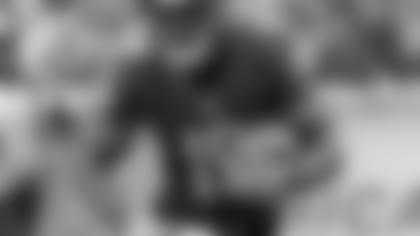 Bears veteran receiver Eddie Royal will be placed on injured reserve with a toe injury.


Royal played in nine games this season, catching 33 passes for 369 yards and two touchdowns. He also averaged 8.7 yards on 19 punt returns, including a 65-yard TD in a Week 2 loss to the Eagles.
"Even with his limited playing time, I think he was still in the top 15 in third-down receptions as well as punt returns," said coach John Fox. "So we definitely could have used him had he been healthy and it's unfortunate that he's not."
Royal had 29 receptions for 338 yards and two TDs in the first six games this season before sitting out two contests. He then returned but was limited in three games before being sidelined again the last three weeks. The veteran receiver will become the Bears' 18th player to be placed on injured reserve this year.
Royal was also limited to nine games by injuries in his first season with the Bears last year, when he caught 37 passes for 238 yards and one TD. With the Chargers in 2014, he had 62 receptions for 778 yards and seven touchdowns.
Welcome back: Veteran linebacker Jerrell Freeman rejoined the Bears Monday after serving a four-game suspension for violating the NFL policy on performance enhancing substances.
"He was our signal-caller up until he left on suspension, so [his return] will help," Fox said. "There's a command there and an experience there that will be helpful."
With Freeman suspended and Danny Trevathan out for the season with a knee injury, the Bears have relied on a pair of young inside linebackers to fill the void.
"I thought that John Timu and Nick Kwiatkoski stepped in and did a good job," Fox said. "I think the play Nick made on second down on that final drive on the screen pass was a huge play to create the third-and-long. So again it was an opportunity for some young guys to get more time, but we'll welcome Jerrell back for sure."
Kwiatkoski recorded five tackles and one tackle-for-loss Sunday against the Packers. On the play Fox referred to, the fourth-round pick tackled Ty Montgomery for a one-yard loss.
No second guessing: Fox defended the Bears' decision to play "quarters" coverage on the key play in Sunday's game. Packers quarterback Aaron Rodgers heaved a 60-yard completion to Jordy Nelson, beating cornerback Cre'von LeBlanc to set up the winning field goal.
"I think we'd run that particular coverage a couple of other times and been successful," Fox said. "Actually we had a decent day on third down against the Pack (limiting them to 3-of-10). It's a coverage that we played before. Like I said yesterday, they just made a really good play.
"There were a whole lot of plays before that one I think that affected the outcome of the game. Obviously it was a big play, but it wasn't the only big play. The biggest factor in that game was minus-four in the turnover ratio."
Short memory: One week after recording his first NFL interception and touchdown with a pick-six against the Lions, LeBlanc had a game he'd no doubt like to forget. In addition to allowing Nelson's long reception, the rookie also missed a tackle on Christine Michael's 42-yard TD run.
"Playing the secondary, you've got to have a short memory," Fox said. "That team practices and gets paid, too. When you play that position, sometimes it's pretty obvious. You're going to get beat. If you haven't been beat as a corner, you haven't played. It's like if you haven't dropped a pass, you've not played receiver in this league. If you haven't missed a pass, you haven't played quarterback in this league.
"Those things happen. When you're in the arena like that and you get beat, it's how you respond that's critical and I think he's a tough young man that will respond right."