The Bears will support National Breast Cancer Awareness Month at their two October home games, with a "Crucial Catch" campaign earlier in the season against the Vikings and their annual "Real Bears Fans Wear Pink" initiative Oct. 22 versus the Panthers.
Crucial Catch is an evolution of the NFL's breast cancer awareness campaign, expanding the impact of the league's work to multiple types of cancers, in addition to breast cancer.
Since 2009, the league's A Crucial Catch: Screening Save Lives campaign has raised more than $18 million for the American Cancer Society (ACS). With the success achieved, the league consulted with ACS to identify additional areas in which the league could create the most immediate impact in the fight against cancer.
The NFL is expanding its focus to lead the country towards early detection and risk reduction of all cancers, breast cancer included. The evolution of the platform has the potential to accelerate progress and move the country towards increased levels of early detection and survival, improving quality of life for future generations.
Crucial Catch and its emphasis on early detection and risk reduction of multiple cancers provides NFL Clubs with a tremendous opportunity to create increased impact on both a national and local level. While the league and all 32 clubs are united around the Crucial Catch campaign, clubs have the option of choosing which cancer(s) to activate around through community initiatives and local marketing during the Crucial Catch window (Weeks 5-7). Clubs have the opportunity to support one cancer on an ongoing basis, support a new cancer each year, or support multiple cancers each year.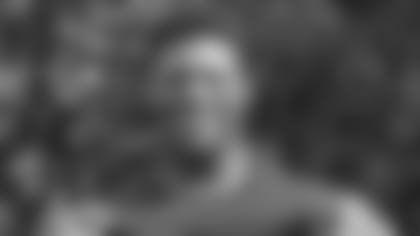 Bears defensive end Roy Robertson-Harris.


League-level fundraising will be directed towards support of three screenable cancers: breast, colorectal and cervical. Funding will be donated to ACS to distribute to medical centers via CHANGE Grants. ACS' Community Health Advocates implementing National Grants for Empowerment (CHANGE) program provides outreach and cancer screenings to men and women in underserved communities.
In 2017, fans will see footballs, helmet decals, captains' patches, game officials' caps and quarterback towels with the multi-colored Crucial Catch logo representing all cancers. Additionally, players are able to wear shoelaces, cleats and wristbands in any color representing their cancer of choice during their team's Crucial Catch game. A player's choice is personal and does not have to be the cancer their team has chosen to support.
As part of the campaign, the NFL and ACS recently launched a new, digital took, "The Defender," that provides fans with personalized tips to reduce their cancer risk. The Defender, funded by the NFL and developed by ACS, analyzes user-input health information to provide individuals with quick, informative recommendations on how he or she can make changes to their lifestyle and daily habits and take action to reduce his or her cancer risk.
New this year, the NFL and ACS are teaming for the Crucial Catch Challenge, a player fundraising campaign based on on-field performance. Through Pledge It, a donation platform, players from across the league will raise funds in support of ACS based on their performances, such as number of recorded touchdowns, sacks or interceptions, in Weeks 5-7.
Fans may participate in Crucial Catch and join the fight against cancer by visiting NFL.com/CrucialCatch to access The Defender, donate to ACS and pledge to support an NFL player's Crucial Catch Challenge.
The Bears' honorary captains during that Monday night game were Jill Feldman, who is a lung cancer survivor, and Sergeant Melinda Linas, who is a breast cancer survivor and 18-year veteran of Chicago Police Department.
At the Oct. 22 game against the Panthers, the Bears will celebrate the 10th year of the "Real Bears Fans Wear Pink" campaign by Bears Care. Proceeds from the campaign are directed to organizations throughout Chicago that provide greatly needed care, assistance and support services to individuals and families living with a breast cancer diagnosis, with over $1 million distributed to date.
Fans are encouraged to engage their friends and fellow Bears fans and visit chicagobears.com/pink to purchase this year's shirt, and wear them on Oct. 22 when the Bears host the Panthers, officially recognize National Breast Cancer Awareness Month and honor local survivors in partnership with Advocate Health Care, the Official Health Care Provider of the Chicago Bears.
RBFWP focuses on assisting programs that support breast cancer patients and survivors, and complements the organization's decades-long commitment to investing in cutting edge Chicago area breast cancer research efforts, efforts that are funded by the proceeds from the annual Bears Care Gala.
The Bears and Advocate Health Care officially unveiled the t-shirt design on Sept. 19 with the help of left tackle Charles Leno Jr. and cornerback Marcus Cooper Sr. at a pep rally at Advocate Condell Medical Center. Defensive end Roy Robertson-Harris also appeared at the Conway Park Autumn Classic 5K earlier that day in support of the campaign and to help sell the exclusive t-shirts.
On Sept. 22, Bears Care hosted approximately 80 breast cancer survivors and guests from organizations that received funding from the 2016 Real Bears Fans Wear Pink campaign, which raised and distributed over $140,000. Danny Trevathan, whose grandmother has breast cancer, stopped by the luncheon to speak with the group and take photos.
Advocate Health Care is now a Hall of Fame Partner of the Bears and they are also now the Official Healthcare Provider of the Bears.