The Bears on Monday acquired tight end Dante Rosario in a trade with the Dallas Cowboys for an undisclosed 2014 draft pick and waived tight end Kyle Adams.
Rosario has appeared in 91 games with 27 starts in six NFL seasons with the Panthers (2007-10), Dolphins (2011), Broncos (2011) and Chargers (2012), compiling 99 receptions for 1,106 yards and eight touchdowns. He signed with the Cowboys on June 3.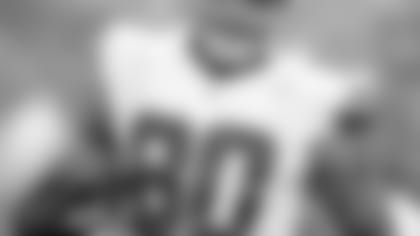 Tight end Dante Rosario is the second player the Bears have acquired since announcing their final cuts Saturday.
Last season Rosario played in 13 games with two starts for the Chargers, catching 10 passes for 95 yards and a career-high three touchdowns—with all three coming in a Week 2 win over the Titans.
After being selected by the Panthers in the fifth round of the 2007 draft out of Oregon, the 6-3, 242-pounder appeared in all 16 games in three of four seasons with Carolina.
Adams entered the NFL with the Bears in 2011 as an undrafted free agent from Purdue. He appeared in 23 games with two starts the past two seasons, catching four passes for 40 yards.
New editions: Rosario is the second player the Bears have acquired since announcing their final cuts Saturday. The first was rookie defensive end David Bass, who was claimed off waivers from the Raiders Sunday.
Bass was selected by Oakland in the seventh round of the draft out of Missouri Western State, where he set school records with 40.5 sacks and 50 consecutive starts. The 6-4, 256-pounder replaces defensive end Cheta Ozougwu, who was waived.
"David has got a little more size than Cheta," said general manager Phil Emery. "He's a better point of attack player in our eyes. We feel like he has a better opportunity to be a more all-around player-run and pass-and that again goes along with our roster philosophy.
"If you can find a player that is better at doing what you want done overall as a player and has a higher potential, a higher ceiling to do so, we're going to go in that direction."
Developmental passer: The Bears signed former Texas A&M quarterback Jerrod Johnson to their practice squad Sunday after an impressive workout last week at Halas Hall.
"I knew him from A&M," Emery said Monday. "He struggled as a senior at A&M. There were a lot of rumors that he was injured. Talking to him, he was. He's undergone surgery. He basically relearned how to throw the ball.
"He was impressive out there in terms of his accuracy and the ball velocity that he had. He has foot movement, he's 6-foot-5, and he's trimmed down, he's 240 pounds. He's a very engaging young man with a lot of intelligence.
"I told him when he left here, basically, unless we added a third quarterback, that the job was his, that he had earned it between seeing what we saw in the workout and talking to him."
After leaving Texas A&M as the school's all-time leading passer with 8,011 yards, Johnson entered the NFL with the Eagles in 2011 as an undrafted free agent. He has also spent time with the Steelers and Seahawks, but has not appeared in a regular-season game.
Tackle added: The Bears on Monday filled the eighth and final spot on their practice squad by signing tackle Jamaal Johnson-Webb. The 6-6, 306-pounder entered the NFL with the Cardinals this year as an undrafted free agent from Alabama A&M, but was waived by Arizona Saturday as part of final cuts.