The Bears on Monday traded veteran outside linebacker Jared Allen to the Carolina Panthers in exchange for a 2016 draft pick. The deal is pending a physical.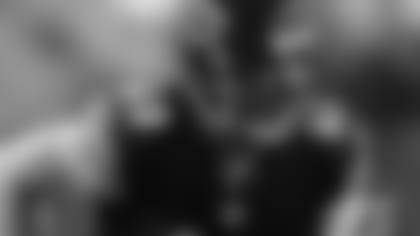 Jared Allen leaves the Bears as the NFL's active sack leader with 134.
"We had some depth at the linebacker position and were able to reach an agreement with the Panthers to bring a 2016 draft pick to our team in exchange for Jared Allen," Bears general manager Ryan Pace said in a statement. "Whether it is acquiring additional picks or signing players, we will continue to be aggressive in finding ways to improve our football team.
"We appreciate Jared's contributions and wish him the best in Carolina."
Allen, 33, signed with the Bears in March 2014 after spending his first 10 NFL seasons with the Chiefs (2004-07) and Vikings (2008-13). He remains the league's active sack leader with 134, but Allen didn't produce sacks with the Bears at the same rate he did prior to arriving in Chicago.
After averaging 14.5 sacks over the previous seven seasons with the Chiefs and Vikings, Allen was limited to a career-low 5.5 sacks with the Bears in 2014. Allen spent several weeks trying to regain strength and weight after losing 15 pounds during a bout with pneumonia, which forced him to miss one game, ending his streak of 113 consecutive starts.
With the Bears switching to a 3-4 defense this season under first-year coordinator Vic Fangio, Allen was moved from defensive end to outside linebacker. After a disappointing first season with the Bears, he enthusiastically embraced the change and was eager to prove himself at a new position.
Allen did not record a sack in the first three games of the 2015 season, though he did produce the defense's only takeaway with a Week 2 interception of Cardinals quarterback Carson Palmer.
Bears coach John Fox discussed the trade for the first time Monday night on "The Bears Coaches Show" on WBBM Newsradio 780 and 105.9 FM.
"I think it's a win-win for both sides," Fox said. "Jared's done everything we've asked. He was all in as far as learning outside linebacker. Truth be told, his experience in a very, very good career has been with his hand in the dirt in the 4-3 and this was an opportunity for us to get a sixth-round draft pick as well as give him an opportunity to go finish his career as a defensive end.
"It worked out good for both sides. Not very many times you actually have the opportunity to get a draft pick [for] a guy this far along in a career and also on the kind of deal we had him on. So it was a great opportunity and again something he's excited about and also it's something we're excited about. They looked at it as a way to make them better and we looked at it as a way to make us better."
Allen was a highly-respected veteran in the Bears locker room.
"Jared was well-liked," Fox said. "He was well-liked by the staff as well as his teammates. They understand, the players, that this is a business and we're going to continually try to do anything we can to try to make our team better, and in this case I think most guys understand. I know Jared did."
Fox revealed that Allen's departure will give outside linebacker Willie Young an opportunity to get back on the field. After playing in the first two games of the season, Young was a healthy scratch Sunday in Seattle because he isn't a regular special-teams contributor.