INDIANAPOLIS – The Bears are trying to reach an agreement on a long-term contract with Alshon Jeffery and would consider placing a franchise tag on the receiver if no deal is struck.
"We're actively and aggressively negotiating right now," general manager Ryan Pace said Wednesday at the NFL Combine. "We understand the deadline is Tuesday for the franchise tag. That's an option. We have until Tuesday to make that decision, but right now that's kind of ongoing."
If the Bears do use their franchise tag on Jeffery, it would preclude him from becoming an unrestricted free agent while guaranteeing him a one-year salary for the average of the NFL's five highest paid receivers. In that scenario, they would still be able to sign him to a long-term deal through July 15.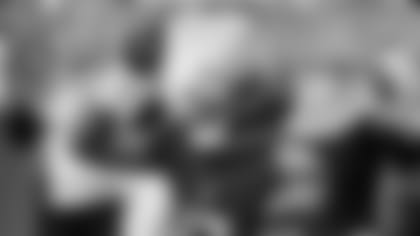 Alshon Jeffery was selected by the Bears in the second round of the 2012 draft.


There have been some rumblings in the media that Jeffery isn't happy in Chicago and would rather continue his career elsewhere, preferably in a warmer climate. But Pace refuted that.
"I've heard that," Pace said. "I sense he wants to be here. We're the team that drafted him. He loves the city of Chicago. He's comfortable in the offense and I sense that he wants to be here."
Jeffery was limited to nine games last season due to injuries to his calf, hamstring, groin and shoulder. But he still led the Bears with 54 receptions for 807 yards and four touchdowns. Prior to last year, the veteran receiver played in all 16 games the two previous seasons.
At his end-of-season press conference Jan. 4, Pace said that the Bears were determined to "get a better grasp" of what caused Jeffery's injuries last year and how to prevent them in the future.
"The thing about it is the previous two years he remained healthy," Pace said Wednesday. "Last year he had a series of injuries. We've got a great sports team around him with Jen [Gibson] and Nate [Breske] and Jason George. I think being in Year 2 with a player helps a lot just understanding his body and his body mechanics. I know him and his agent are doing some things, too, to improve on that. When he gets back, we'll have a plan in place. It's important."
Jeffery was selected by the Bears in the second round of the 2012 draft. He was voted to the Pro Bowl in 2013 after catching 89 passes for 1,421 yards and seven touchdowns and followed with 85 receptions for 1,133 yards and 10 TDs in 2014.
After the Bears traded Brandon Marshall to the Jets last March, it appeared that Jeffery was primed to become the team's No. 1 receiver. When healthy enough to play, the South Carolina product showed his game-breaking ability, posting four 100-yard games.
Asked Wednesday at the Combine about Jeffery's durability issues, coach John Fox said: "He's had good production over his career. I don't think it's fair just to take one segment of it and try to define him by that, whether that's good or bad, regardless of what player I'm talking about.
"We've seen enough of him, albeit that we'd like to have seen him more. But that's part of football and we're willing to take that risk. When he's been healthy we've liked his production and what he brings to our team."
Jeffery reportedly plans to work out at Jay Glazer's Unbreakable Performance Center in Los Angeles this offseason.
"I think what they've done there in L.A. is kind of a new concept; a little more of the mental training as well as the physical," Fox said. "Things I've heard have been real positive from both sides, from both Alshon and the people there at Jay's gym."