The only good news about getting blown out on Monday Night Football is that the Bears must quickly put their humiliating 32-7 loss to the San Francisco 49ers behind them.
Right about the time their plane touched down at O'Hare Airport early Tuesday morning the focus shifted to Sunday's NFC North showdown against the Minnesota Vikings at Soldier Field.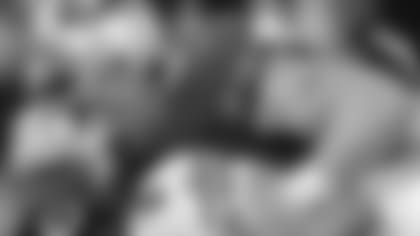 Jason Campbell was sacked six times in Monday night's loss in San Francisco.
"It's embarrassing anytime we lose, especially to lose and get dominated like that, it is pretty frustrating," said middle linebacker Brian Urlacher. "But there is always next week. We have a quick turnaround Sunday against Minnesota, so we have to get over it quick."

With Monday night's loss, the Bears (7-3) slipped into a first-place tie with the Packers (7-3), one game ahead of the Vikings (6-4) in a race that figures to go down to the wire.

"We are still No. 1 in our division right now," said receiver Devin Hester. "That is the upside coming off of this loss. We have a divisional game coming up, so we can't dwell on this game. We have to move forward and get ready for Minnesota."

The Bears have generally done a good job rebounding from blowout losses. Since 2008, they are 5-1 in games immediately following a defeat of at least 21 points. That includes a 3-0 record in home games that have followed lopsided losses on the road.

Nothing doing: The Bears offense looks to bounce back after mustering a season-low 143 total yards. The unit didn't cross the 50-yard line until midway through the third quarter on its eighth possession of the game and advanced into 49ers territory on only two of 11 drives.

"It was very frustrating," Hester said. "We didn't come to play, plain and simple, and it showed. Those guys wanted it more than us. They gave 100 percent effort and we didn't, and it showed."

The Bears failed to produce a first down on seven of their 11 possessions.

"We needed to get more first downs," said right tackle Gabe Carimi. "That's the bottom line. We needed to keep drives going."

No chance: After not allowing any sacks in their previous game against the Texans, the Bears permitted six sacks of Jason Campbell Monday night, with linebacker Aldon Smith recording 5.5.

"It was tough," Hester said. "We just didn't give him a fair shot to showcase his talents."

Campbell completed 14 of 22 passes for 107 yards with one touchdown, two interceptions and a 52.7 passer rating. He connected only twice with Brandon Marshall for 21 yards.

"I was really frustrated," said Marshall, who scored the Bears' only touchdown on a 13-yard catch after the 49ers had built a 27-0 lead. "This was a big opportunity for us. We just didn't get it done."

Long night: The Bears defense played its worst game of the season. Making his first NFL start, quarterback Colin Kaepernick led the 49ers to two touchdowns and two field goals on their first four possessions as San Francisco raced to a 20-0 lead.

Kaepernick completed 16 of 23 passes for 243 yards with two TDs and a 133.1 rating.

"They were just better than us in man coverage," said safety Chris Conte. "They had the match-up in one-on-ones. They knew where to go with the ball. Unfortunately for us, they got the ball to the playmakers. They were making low-risk throws and were completing them.

"They out-executed us. They simply played better and more physical. It seemed like they were getting off the ball much faster. It just seemed like they had our number in all phases."

Surprise party: Cornerback Tim Jennings said that the Bears were expecting the 49ers to rely more on their top-ranked running game than the inexperienced Kaepernick.

"You have to take your hat off to the quarterback; he came out and did tremendous," Jennings said. "He was comfortable. We were kind of surprised, but you have to tip your hat to them. They played better than we did. They had a great game. They had a great game plan.

"One way to look at it is that it was embarrassing. We have to put this behind us. We have a short week and we have to get ready for Minnesota to get this taste out of our mouth."