Given what transpired Sunday at Soldier Field, you won't hear Bears coach John Fox complain about having to turn the page quickly to Thursday night's road game against the Packers.
The Bears took a 13-0 lead into the fourth quarter Sunday against the Jaguars only to lose 17-16 after allowing 10 points in a 2:10 span late in the game.
"It's kind of exciting that we're getting back into it on a short week coming off a day like yesterday," Fox said. "I'm kind of excited to get back on Thursday, a short week, against a rival."
One day after falling to 1-5—their worst six-game start since they were also 1-5 in 2004—the Bears remained a team coping with both mounting losses and injuries. But players haven't lost hope.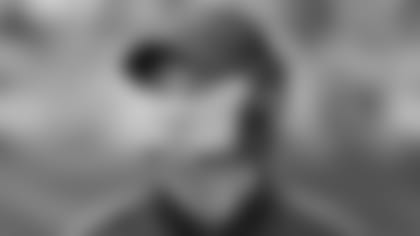 Bears head coach John Fox is looking ahead to Thursday night's road game against the Packers.


"They're pros," Fox said. "You remind yourself that it's a long season. We're not even halfway through. You bring up examples. A team a year ago, the Kansas City Chiefs, started 1-5 and they made the playoffs. So all of those things are possible. But if you lay down your sword, not so much."
Had the Bears practiced Monday—they didn't work out but had to submit an injury report—eight players would not have been able to participate and five more would have been limited.
"Unfortunately, [injuries have] been a big part of our season thus far," Fox said. "But somebody else has got to pick up their game. Nobody comes and rescues you. They're not going to now just like they didn't a month ago. We'll take a tough mindset approach and go from there as we get ready for a big rivalry game Thursday night in Green Bay."
Had the Bears practiced Monday, quarterback Jay Cutler (thumb), running back Jeremy Langford (ankle), receiver Eddie Royal (toe), cornerbacks Tracy Porter (knee), Bryce Callahan (hamstring) and Deiondre Hall (ankle), left guard Josh Sitton (ankle) and nose tackle Eddie Goldman (ankle) would not have been able to work out.
Outside linebackers Sam Acho (ribs) and Leonard Floyd (calf), running back Ka'Deem Carey (hamstring), outside linebacker Leonard Floyd (calf), inside linebacker Jerrell Freeman (wrist) and tight end Zach Miller (ribs) would have been limited.
Porter was hurt when he slipped late in the fourth quarter and got beat for Arrelious Benn's game-winning 51-yard touchdown pass from Blake Bortles.
"We're going to be day-to-day," Fox said about Porter's status. "The fact that this [injury report] was mythical—we didn't actually practice—we'll know more tomorrow."
More will also be known about outside linebacker Pernell McPhee, who is eligible to play in his first game of the season in Green Bay after spending the first six weeks of the season on the physically unable to perform list with a knee injury. McPhee practiced for the first time last Friday.
"We'll get a better idea tomorrow," Fox said. "We don't practice real, real brisk on these short weeks, but at least we'll be out on the field, unlike today, so we'll have a feel for that. He'll do some stuff with the training staff and some of the coaching staff, and we'll just have to get a feel and make a decision before Thursday."
Fox confirmed that Hall, rookie fourth-round pick from Northern Iowa, is wearing a cast on his injured ankle. But it's not broken and he has not undergone surgery. Fox called it a "week-to-week thing," saying: "I think at some point he'll go to a boot and we'll just evaluate it from there."