The Bears on Tuesday reached the NFL's mandatory 75-man roster limit by waiving quarterback Matt Blanchard with an injury settlement.
The first-year pro from Wisconsin-Whitewater broke a knuckle on his left hand during the Bears' second preseason game against the Chargers. In the opener versus the Panthers, he completed 15 of 18 passes for 194 yards with one interception and an 88.4 passer rating that was tops among the six quarterbacks who played in the game.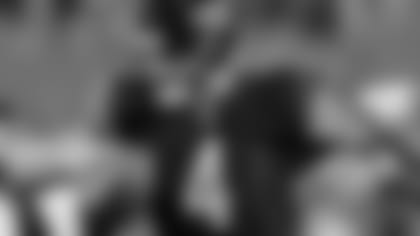 Matt Blanchard was progressing before breaking a knuckle on his left hand against the Chargers.
Because Blanchard was waived/injured, the Bears cannot sign him to their practice squad or active roster until after Week 10. Whether that ultimately transpires won't be decided for some time.
"I haven't even thought about that," said coach Marc Trestman. "I'm just disappointed he was injured. I really liked his progress. I think we resonated that through the times we've talked here. Really, we'll see how it goes as we move forward. There are so many variables between now and then."
Blanchard wasn't a lock to make the opening-day roster even if he had remained healthy. The situation behind starter Jay Cutler and backup Josh McCown will be a lot clearer Saturday when the Bears are required to reach the NFL's mandatory 53-man roster.
Cutler and McCown both will be held out of Thursday night's preseason finale against the Browns. Jordan Palmer will start the game, with Trent Edwards coming in to relieve him.
"We'll know a lot more towards the end of the weekend when this thing all sorts itself out," Trestman said. "I think everybody has an idea how we felt about Matt while he was here [before] the unfortunate incident that happened in the game. But those kinds of discussions will take place Friday and Saturday. We'll look to see how we can put this thing all together with the other 52 spots on the roster as well."
Although Palmer and Edwards have been with the Bears less than two weeks, Trestman is confident that they'll be able to operate the offense with efficiency against the Browns,
"The No. 1 thing when you come into situations like this is [to] have enough of an understanding of the offense," Trestman said. "They have both worked really hard. They spent a lot of time with [quarterbacks coach] Matt Cavanaugh getting ready, learning the offense, putting a game plan together that would efficiently run with very minimal reps as you might expect.
"They've been extremely professional. They've practiced well, they really have. I expect that they're going to do well. I do. They're both very bright guys. I think anybody you talk to about Jordan Palmer and Trent would tell you that football IQ is not an issue with either of them."