The Bears on Tuesday waived third-string quarterback David Fales and signed receiver Nathan Palmer and defensive tackle D'Anthony Smith to their practice squad.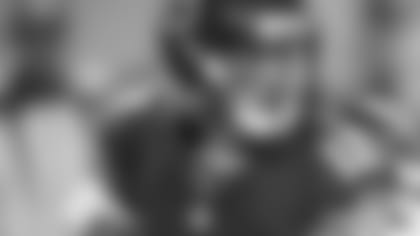 David Fales
Fales was selected by the Bears in the sixth round of the 2014 draft out of San Jose State. He has split time between the 53-man roster and practice squad the past two seasons, but has not played in a regular-season game.
Palmer appeared in five games with the Colts in 2012, catching one pass for minus-four yards and recovering a fumble on special teams. He entered the NFL as an undrafted free agent with the 49ers in 2012 and has spent time on the practice squads of the 49ers (2012), Dolphins (2013), Broncos (2013-14) and Patriots (2015).
Smith played in 10 games over two seasons with the Jaguars (2012) and Seahawks (2013), recording 15 tackles, one tackle-for-loss and one quarterback hit. The 6-2, 300-pounder was selected by the Jaguars in the third round of the 2010 draft.
Palmer and Smith take the practice squad spots that were held by defensive tackle Brandon Dunn, who was signed to the Texans' 53-man roster; and center Ryan Seymour, whose contract was terminated.