New Bears coach Marc Trestman has not yet unveiled detailed plans for his offense. But one thing for sure is that the team needs to get more out of the tight end position in the passing game than it did in 2012.
This past season Bears tight ends combined for only 29 receptions, the fewest in the NFL for the second straight year. Starter Kellen Davis caught just 19 passes while being plagued by drops.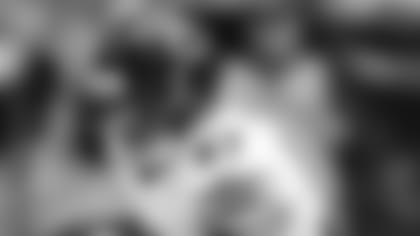 Tight end Kellen Davis caught 19 passes for 229 yards and two touchdowns in 2012.
"We need a tight end that can threaten the defense," said new tight ends coach Andy Bischoff, who spent the past five seasons working on Trestman's staff with the CFL's Montreal Alouettes.

"We need a tight end that can create stress in the middle of the field, or wherever we place him, because we're going to line him up next to the tackle, outside the numbers and in the backfield, and we're going to expect the defense to figure it out."

A Bears tight end caught at least 20 passes in 17 straight seasons before the streak was snapped in 2011 when Davis was limited to 18 receptions. Desmond Clark caught 45, 44 and 41 passes from 2006-2008, while Greg Olsen had 39, 54, 60 and 41 receptions from 2007-10.

Mike Martz, who served as offensive coordinator in 2010-11, didn't employ tight ends as down-the-field threats in the passing game. His successor, Mike Tice, made a more concerted effort to incorporate tight ends as receivers in 2012. But Davis struggled throughout the season.

Backup Matt Spaeth delivered one of the top plays of the year with a diving 13-yard touchdown catch against the Vikings, but the 6-7, 260-pounder is a more of a natural blocker than receiver.

"Absolutely we need a tight end that can catch the ball," Bischoff said. "The days of the tight end that blocked and ran flat routes in this league are coming to an end. The guys that just run three-yard flat routes, that is not going to do anything for you."

New Bears offensive coordinator Aaron Kromer arrives from New Orleans, where he worked with a Saints offense that featured star tight end Jimmy Graham. An athletic former college basketball player, Graham has 184 receptions for 2,292 yards and 20 touchdowns the past two seasons.

"We've utilized the tight end in this offense quite often," Kromer said. "We'd surely like to be able to throw the football to them. We'd like them to be able to block somewhat in the running game. They're not going to be an offensive lineman blocking, but definitely the more weapons you have the better off you are."