INDIANAPOLIS – The Bears have no immediate plans to switch Shea McClellin from defensive end to linebacker, but they do intend to take advantage of his athletic ability.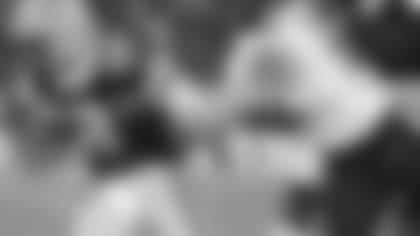 Bears defensive end Shea McClellin pressures Packers quarterback Aaron Rodgers.
That means that McClellin, who was selected with the 19th overall pick in last year's draft out of Boise State, could stand up and drop into pass coverage on occasion like he did as a rookie.
"He'll remain at d-end," Bears general manager Phil Emery said Thursday at the NFL Scouting Combine. "[But] we're not going to put an umbrella around him. We're going to use his talents, his athleticism, his speed and his savvy the best that we can. Whatever our coaches concoct as far as a plan for him, we'll use every ounce of it.
"He is a d-end. That's his position. We're excited about him as a pass rusher. We want him to get on the field more in regular-down situations, and where his versatility is, I think that's a plus for him. So if he ends up being a linebacker in some situations, good."
As a rookie in 2012, McClellin was utilized primarily as a pass rush specialist, registering 2.5 sacks and 14 quarterback pressures. With new head coach Marc Trestman and defensive coordinator Mel Tucker taking over, McClellin's exact role has yet to be determined.
"I think that he has flexibility," Trestman said. "He is a tremendous athlete. As we put our football team together, we'll work on that. We've had discussions about Shea and all his strengths and weaknesses, and he's got a lot of strengths and a lot of great things he can do. As Mel and the guys continue to put the defense together, we'll decide collectively what the best place for him to play."
The next step: Expectations are high in 2013 for both McClellin and receiver Alshon Jeffery, the Bears' top two picks in the 2012 draft. Jeffery showed flashes while battling injuries as a rookie, catching 24 passes for 367 yards and three touchdowns in 10 games.
"Want them to get better as football players," Emery said. "Want them to grow as football players and be more productive; grow in their knowledge of the game and just be better players overall.
"I was very satisfied with where they were at as rookies. They both had some [injuries]. We wanted them to be healthier, but that's the nature of the game. We want them to be better and to be more productive so that they can help us at a higher level and win football games."
Wait and see: The Bears have not yet decided where Gabe Carimi will line up in 2013.
A first-round draft pick in 2011, he opened his rookie season as the Bears' starting right tackle but missed the final 14 games with a knee injury. Carimi returned to start the first 10 games at right tackle this past season before being supplanted by Jonathan Scott.
When guards Lance Louis and Chris Spencer both were injured in a Week 12 win over the Minnesota Vikings, Carimi filled in at right guard, playing the position for the first time. He then started the next three games at right guard.
"Coaches are going to work through that during OTAs, during the winter, get to Gabe, get to see what his strengths and weaknesses are," Emery said. "Obviously they've seen some things on tape. I think they see upside to him as a tackle or a guard, so we'll find out through that process, and I'm sure that will take all the way through camp to find his exact position."
Emery acknowledged that Carimi struggled at times in 2012, but his versatility is a plus.
"I do see that he has some flexibility," Emery said. "Gabe had some rough moments during the year. He had some good moments during the year, had some really good run-blocking moments. There are areas that he's got to improve as a pass blocker, but he had good moments both at guard and at tackle."
Production line: Even with a new offense and coaching staff in place, the traits that Emery seeks when evaluating offensive linemen in the draft remain the same.
"I don't think it's any different," Emery said. "What you want in an offensive linemen No. 1 is you want production. You want guys that produce consistently at least at the good level play-after-play, and you call those guys starters; consistently good as a pass protector, consistently good as run blockers.
"You're looking for guys that have the size, the massive strength and the quickness to accomplish that at the NFL level. Those defensive linemen on an average are more athletic than their counterparts on offense. So you also have to have somebody that has good football sense or smarts and has good toughness because he's going to have to bounce back to reach that consistent level when he normally plays against somebody that may have a little more speed and quickness than he does."