Beginning Tuesday when players start arriving at Olivet Nazarene University in Bourbonnais, ChicagoBears.com will provide unparalleled coverage of Bears training camp.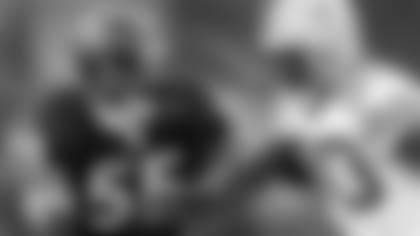 Lance Briggs and the Bears will practice for the first time at 2:30 p.m. Thursday in Bourbonnais.
Senior writer Larry Mayer will post the latest news around the clock as well as features covering every storyline and position battle.
On Tuesday, general manager Phil Emery is slated to speak with the media at 2:30 p.m., followed by coach Lovie Smith at 3 p.m.
Training camp officially kicks off Wednesday with the first practice slated for Thursday at 2:30 p.m.
Through Twitter (@ChicagoBears), Larry will give fans unprecedented access to the Bears—on the practice field, inside the locker room and even on the team plane—with real-time news, nuggets and information they can't get anywhere else.
New videos will be posted continuously during camp, including training camp reports, highlights, post-practice interviews and player profiles.
Beyond news and videos, ChicagoBears.com will also have daily photo galleries and enable fans to interact and discuss issues concerning the Bears on Facebook.
Training Camp Central is brought to you by Toyota, the official car of the Chicago Bears.
[ ](http://www.phoenix.edu/campus-locations/il.html?utmsource=Story&utmmedium=instory&utmcampaign=300x100)