Mike Tice joked Wednesday that he thought he was going to have to suit up after starting guards Lance Louis and Chris Spencer exited last Sunday's game against the Vikings with knee injuries.
"Thank God for the Bears I didn't," the offensive coordinator said with a laugh. "It could have been worse."
Tice played 14 NFL seasons as a tight end, retiring after the 1995 campaign. The 53-year-old has no plans to make a comeback, but that's about the only certainty involving the Bears offensive line.
Over the last week, the unit has experienced enough dramatic developments to start its own reality show: Chilo Rachal left the team due to personal reasons, Gabe Carimi lost his starting right tackle job to Jonathan Scott, rookie James Brown was promoted from the practice squad, Carimi was summoned to play guard in a game for the first time in his career, Edwin Williams replaced the injured Spencer after being inactive the first 10 games, Louis was placed on injured reserve and Andre Gurode was signed off the street.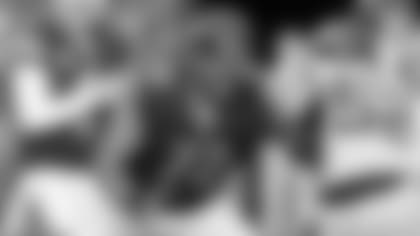 Playing guard for the first time in his career, Gabe Carimi protects Jay Cutler against the Vikings.
With all that in mind, it's easy to understand why the Bears haven't yet finalized their starting five for Sunday's home game against the Seahawks.
"We have some options as far as how we go on our offensive line," said coah Lovie Smith. "One option is to start the game just how we finished the last one, but we have a week to work all of that out."
The Bears ended last Sunday's win over the Vikings with J'Marcus Webb at left tackle, Edwin Williams at left guard, Roberto Garza at center, Carimi at right guard and Scott at right tackle.
"We'll try to make sure we've got the best five guys," Tice said, "and at the same time we have to have seven guys ready to play because if one of the guys can't handle where it's too much for them then we've got to move another guy in. We've got to have at it. We can't wait until Monday and say we should have made a change. If we've got to make one, we'll make one."
The biggest adjustment likely would have to be made by Carimi, a natural tackle.
"The simple fact that we have confidence in him, I think that will help him in this challenge," Scott said. "I think he's definitely ready for it because he has the tenacity to play the game.
"We all know what everyone else knows. I know what the guards do and the guards know what the tackles do. It will be a challenge, but I have a lot of confidence knowing he'd be in there."
Gurode, who signed with the Bears Tuesday, was selected to five Pro Bowls in 10 seasons with the Cowboys from 2002-10 before starting five of 13 games played last year with the Ravens.
"I'm very excited for the opportunity to come in and help contribute to a great team," said Gurode, who had been working out on his own in Texas. "You come in understanding how big of an opportunity this really truly is and you want to do anything and everything to help the team win."
Asked how much Gurode still has left in the tank, Tice said: "We'll find that out. Hopefully I didn't do too much with him today and he's got nothing left on Thursday. But we had to give him a test today and see where he was at.
"I thought the things that he did he did pretty well. Again, we have to see how he bounces back. He hasn't played any football in a while, and we did put him through a good workout today, including one-on-ones and everything."
The Bears are also high on Brown, an undrafted rookie from Troy.
"We've seen some good things from him," Smith said. "We tell guys to be ready at all times. You never know when injuries will force you into action."
With all of the changes on the line, building cohesiveness won't be easy as the Bears prep for the Seahawks.
"That's the challenge; making sure they're all on the same page, making sure they all have the same calls and in the middle of the game-third quarter, fourth quarter-we can't have a slip up out there," said quarterback Jay Cutler. "We have to have it down pat.
"We just have to be careful with what we ask those guys to do. Make sure they're all on the same page and protect them. You don't want to throw a lot of 'sevens' and chuck the ball 40, 50 times. They're not programmed for that. They're in new positions. We just have to be smart with it."