Jared Allen wasn't the only Bears player who returned to the practice field Wednesday.
Center Roberto Garza and left guard Matt Slauson worked out on a limited basis for the first time since they suffered ankle injuries in the first half of the season opener against the Jets.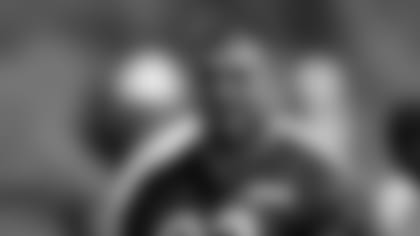 Roberto Garza is the longest tenured Bears player on the offensive side of the ball.
Defensive tackle Jeremiah Ratliff (concussion) and cornerback Sherrick McManis (quad) also were back with limited participation in advance of Sunday's road game versus the Panthers.

It is not yet known whether Garza and Slauson will be able to play this weekend.

"It's really up to our trainers and doctors," said coach Marc Trestman. "They both got out there. They were in pads and they both got some limited work. It'll be day-to-day and we'll see where they are at the end of the week.

"We want to get them back as soon as we can but we want them to be in a position where they're not going to hurt themselves anymore and they're in a position to help our team win. It's good to see them out there. It's good to see them in pads. They certainly want to get out there as quickly as they can and we'll see where they are [Thursday]."

Full speed: Pro Bowl receivers Brandon Marshall (ankle) and Alshon Jeffery (hamstring) have been dealing with injuries since the season opener, but both practiced without limitations on Wednesday.

"That's the first time in a while," Trestman said. "You saw them both out there working in individual and they were both at full speed. They both got through practice. Brandon got through practice; did everything. That's a good sign.

"Professional football players need to practice. Some need to go limited at times because they just need to do that, and we do some of that. But it was good to have him back at full speed."

Roster moves: The Bears on Wednesday signed cornerback/return specialist Teddy Williams off the Arizona Cardinals' practice squad and waived linebacker Terrell Manning.

Williams has appeared in 10 games over two seasons with the Colts (2012) and Cardinals (2013), seeing time at both wide receiver and cornerback in addition to returning kicks. The 6-1, 207-pounder did not play college football; he was a sprinter at Texas-San Antonio.

Manning appeared in two games for the Bears this season on special teams. He previously played in six contests over two seasons with the Packers (2012) and Chargers (2013).

Looking back: For the first time Wednesday, defensive coordinator Mel Tucker spoke to reporters about the defense's poor outing in last Sunday's 38-17 loss to the Packers. Green Bay scored on all of its possessions until its final one when Willie Young blocked a 38-yard field goal attempt.

"We were very disappointed with the outcome obviously," Tucker said. "We didn't do a lot of the things that we thought we could do going into the game. Our execution was not where it needed to be throughout the game and we felt like we hurt ourselves in a lot of situations with penalties, missed assignments and things like that. But we've got to give Green Bay and Aaron Rodgers credit. They had a lot to do with it too."