The Bears always place a premium on protecting quarterback Jay Cutler. But that objective will take on added significance in Sunday's game against the Miami Dolphins at Soldier Field.
"As an overall defense, they're very physical," said Bears offensive coordinator Aaron Kromer. "They hit the quarterback in every game a bunch of times, and that's the No. 1 goal in this game is to limit the hits on our quarterback."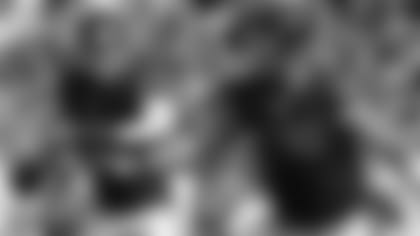 Right guard Kyle Long protects quarterback Jay Cutler Sept. 28 against the Green Bay Packers.
Led by defensive ends Cameron Wake and Olivier Vernon, the Dolphins have compiled 14 sacks in five games this season, including four against Tom Brady in a Week 1 win over the Patriots and three versus Aaron Rodgers last Sunday in a loss to the Packers.
"You look at Tom Brady, you look at Aaron Rodgers, they were hit multiple times," Kromer said. "That's our No. 1 goal coming out of this game is to keep Jay safe and to keep him in a pocket where he can complete a pass."
The Dolphins defense likes to play zone on early downs and then switch to man-to-man coverage on third down, frequently blitzing to set up one-on-one match-ups at the line of scrimmage.
"They do a good job of making five-on-five pass-rush situations," Kromer said. "They don't let you double anybody because a lot of times they're blitzing and keeping everybody one-on-one. They're good pass rushers in general. Then you add the element of everybody has one defender to block with no help, no slide, no help either way, it's hard to hold a block that long."
Avoiding predictable passing situations figures to be ultra-important for the Bears Sunday.
"They really get after the quarterback," said running back Kyle Long, "Cameron Wake is a Pro Bowler and a guy we gave to get some chips on and help our tackles out with that. And they get a big push up the middle, too, which can collapse the pocket.
"The big thing this week is to—like always—establish the run and be efficient in the run game, especially on first downs and early downs. And then protect the quarterback, pick up the blitzes and let Jay be comfortable, and then he can do like he did last week [in a win over the Falcons] and make all the throws and our receivers can make the plays."
The good news for the Bears is that their offensive line continues to get healthier. After being limited Wednesday by ankle and knee injuries that forced him to miss the last two games, left tackle Jermon Bushrod practiced without restrictions Thursday.
"Jermon has played at Pro Bowl levels in the past and is a very good left tackle," Kromer said. "To have him back, it's definitely a boost."
The Bears received the same type of boost last Sunday when veteran center Roberto Garza returned after missing four games with an ankle injury he sustained in a Week 1 loss to the Bills.
"It was good to have him back," Kromer said. "He's a veteran leader. [Brian] de la Puente did a good job when he was in, and we're just lucky to have the availability of 'de la' when Garza was down. But Garza being back gave some continuity to the offense that people were used to."
Also on Thursday, right tackle Jordan Mills practiced on a limited basis after sitting out Wednesday's workout with a foot injury. Mills struggled last Sunday against the Falcons, but Kromer staunchly defended the second-year pro.
"Jordan Mills has played 20 good football games for us," Kromer said Thursday. "He came in as a rookie and had a very good year last year and was having a good year this year. He didn't have his best game; he's the first to tell you. And he came back to work. He didn't practice yesterday, but he practiced today. He came back and really worked hard at the things that were holding him back."
While much of the focus will be on the line Sunday, the entire offense is responsible for protecting the quarterback.
"Everybody is involved in pass protection," Kromer said. "A wide receiver who gets open quickly is going to help our pass protection. A quarterback who makes his read quickly is going to help pass protection. And obviously the protectors are going to do it. It's up to everybody to be in sync and to get the ball off in a timely manner and also do a good job protecting."