GLENDALE, Ariz. — They say that politics makes strange bedfellows, but nothing likely will be any weirder than the Bears and their fans rooting for the rival Green Bay Packers next Sunday.
After beating the Cardinals 28-13 Sunday in Arizona, Lovie Smith's team will earn a wildcard berth next weekend only with a win in Detroit coupled with a Green Bay victory over Minnesota.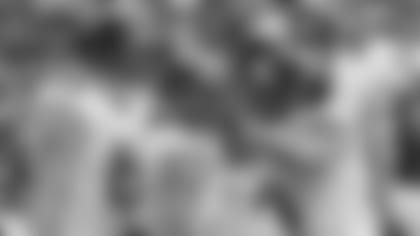 Matt Forte celebrates with teammates after his four-yard TD run in Sunday's 28-13 win.
"I've always been a big Packers fan, so it's not hard at all for me," Smith joked.
"Of course we will [root for Green Bay]. Minnesota has played good football; the Packers have [too]. We have a tough division. As we said this week, we can't do much about that [Packers-Vikings game]. All we can do is get a win against Detroit."
The good news for the Bears is that the Packers will need a win next Sunday to clinch the No. 2 seed in the NFC playoffs and a crucial first-round bye. Green Bay (11-4) will enter Week 17 a half-game ahead of the 49ers (10-4-1), who host the Cardinals. The bad news is that the Vikings (9-6) looked impressive in hammering the Texans 23-6 Sunday in Houston.
"You never know in this league," said quarterback Jay Cutler. "Minnesota played great down in Houston on the road. I don't think many people probably saw that one coming."
The Packers were even more impressive Sunday, routing the Titans 55-7 in Green Bay.
"Hopefully we take care of business in Detroit and Green Bay can keep playing well," Cutler said. "I saw they put up 55 today. Hopefully Aaron [Rodgers] can put on another show next week." While the Bears-Lions game is scheduled for noon, the Packers-Vikings game has been "flexed" to 3:25 p.m.
"We have to win our last game and we need some help," said receiver Brandon Marshall. "But everything that we can control is going out there playing against the Detroit Lions.
"I'm confident in our bunch, confident in myself that we'll win our individual battles and confident that our team will do what we have to do, and that's all we can control."
Like Marshall, Cutler believes that the Bears will be up to the challenge.
"It's nothing too big for this team," he said. "We have a lot of veterans. It's a confident group. We knew we had to get this one and we're going to be confident about next week too."
Smith hopes the Bears will respond in Detroit like they did Sunday in Arizona.
"It was just a great job by the team of doing what it took to get this win and get ourselves in position now," Smith said. "Now with one game left we can talk about just this game and having a chance to get into the playoffs. We're in position for the biggest game we've had in a long time."