INDIANAPOLIS — The Bears recently revealed that they plan to employ a 4-3 base defense in 2014 that possesses the flexibility to take advantage of what their players do best.
But with free agency and the draft still down the road, it's too early to discuss any specifics. The Bears intend to tailor the scheme to their players but don't know at this point who will be on their roster.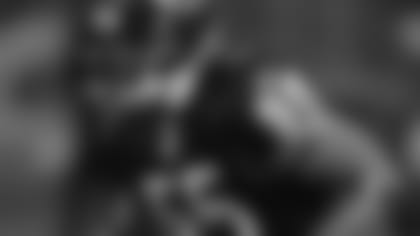 Veteran Lance Briggs returns at weakside linebacker, but the Bears defense likely will have several new players in 2014.
"We're looking at the existing scheme and going through the process of putting a system of football together to accommodate the players that we will have when we get going," coach Marc Trestman said at the NFL Scouting Combine.
"We're not going to know who those players are for quite some time, so to lock ourselves in and be so narrow-minded that this is what we're going to be when we don't have the players to get it done would be to me not very good time on task."
The Bears were in a similar situation on the other side of the ball a year ago. Entering his first season as head coach, Trestman knew what type of offense he wanted to run. But he had to first wait and see which players were acquired during the offseason before formulating it.
Last year the Bears signed tight end Martellus Bennett, left tackle Jermon Bushrod and guard Matt Slauson in free agency and selected guard Kyle Long and tackle Jordan Mills in the draft.
"We didn't know what kind of offense we were going to be," Trestman said. "We were going to put a system in place to accommodate the players that [general manager] Phil [Emery] gives us and that we decide are going to be on our football team, and that's certainly the case defensively as well.
"To lock in and say this is what we're going to be wouldn't be fair at this point in time. It's a process, just like the evaluation of bringing players in and letting players move on is all going to be part of this offseason process.
"Last year at this time there were 10 guys on offense we didn't know we were going to have. But we were putting a system of football offensively together to accommodate who we had at that time and that's exactly the same process now we have to go through defensively."
Bears defensive players who are slated to become free agents include tackles Landon Cohen, Nate Collins, Henry Melton and Jeremiah Ratliff; end Corey Wootton; linebackers James Anderson, Blake Costanzo and D.J. Williams; cornerbacks Charles Tillman, Zack Bowman, Sherrick McManis and Kelvin Hayden; and safeties Major Wright, Craig Steltz and Anthony Walters.
The Bears hired new position coaches Paul Pasqualoni (defensive line) and Reggie Herring (linebackers) in part because they have experience in 4-3 and 3-4 schemes.
"We think we've put a staff together of guys who really can incorporate and be flexible with the players we're going to have as we work through this process of putting the right guys out there," Trestman said.
"We're going to start from the 4-3, but we've got to be flexible enough in our scheme to move people around and have the ability to get it done and not just do it because we see other teams doing it but doing it because we have the skill set and the football experience to be able to do it and we've got those on our staff right now."
As the Bears prepare for free agency and the draft, they plan on retooling their defense after allowing the most points (478) total yards (6,313) and rushing yards (2,583) in franchise history.
"The most important part of this offseason is rebuilding our defense to a stature that's expected of us at Halas Hall, in our community and with our Chicago Bears fan base," Trestman said.
Part of that plan, of course, involves getting younger via the draft. The Bears have seven selections; one in each of the first five rounds and two in the sixth round.
"For the most part it's going to be a defensive-oriented draft in terms of where we're going," Trestman said. "That doesn't mean we won't draft an offensive player. We're going to draft the players we think are best at the time, where our football team is at the time of the draft.
"At this point in time it's just the process of going through this whole thing of working through the guys on the team, the guys who are free agents on the team, the guys who are free agents out there and then working through within the confines of the draft, and that's unknown at this time just like they were a year ago. That's the fun part of this process.
"We know we can do it. We left Halas Hall believing that this would be something that we're going to go through defensively just like we did offensively last year and it's exciting."