The Giants are 0-5 for the first time since 1987, but they're still led by the NFL's only head coach and quarterback who have won two Super Bowls in the last seven seasons.
So as long as Tom Coughlin and Eli Manning are on hand Thursday night at Soldier Field, the Bears aren't going to take the Giants lightly regardless of where they are in the standings.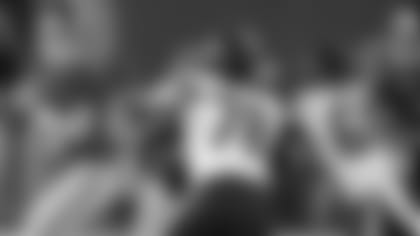 The Bears will face Eli Manning and the Giants without defensive tackles Nate Collins and Henry Melton, both of whom suffered torn ACLs.
"Records don't mean anything; they just don't," said coach Marc Trestman. "When I look at the Giants I see players who have been to the top. I see a quarterback who's going to the Hall of Fame, and he's not going away. He's going to be there for 60 minutes. He's proven that.
"And Tom Coughlin, I've got a tremendous amount of respect for him. I think he's one of the real top coaches in this league. He's always been able to get his teams ready and at moments like this, the fork in the road, he's had his teams ready to play. So we have to be at our best."
The Giants have struggled mightily this season. They've lost to the Cowboys 36-31, Broncos 41-23, Panthers 38-0, Chiefs 31-7 and Eagles 36-21. Their minus-100 point-difference is second-worst in the NFL behind the Jaguars (minus-112) and they've become the first team to allow at least 31 points in each of their first five games since the 1954 Chicago Cardinals.
The Giants have committed an NFL-high 20 turnovers in five games, just one shy of their total from all of last season. Manning has thrown a league-high 12 interceptions, including three in the fourth quarter of Sunday's loss to the Eagles. He had 15 picks all of last year.
Manning will face a Bears defense that hasn't exactly played lights out either. The unit allowed points on 13 of 24 possessions in back-to-back losses to the Lions and Saints. And the Bears have permitted at least 21 points in each of their first five games for the first time since 1997.
Defensive coordinator Mel Tucker isn't taking anything for granted against Manning and a Giants offense that features a dangerous tandem of starting receivers. Victor Cruz has caught 31 passes for 473 yards and four touchdowns, while Hakeem Nicks has 21 receptions for 372 yards.
"When you look at their personnel, they've got playmakers all over the field," Tucker said. "They've got a future Hall of Fame quarterback that's [won] a couple of Super Bowls. Every week in the NFL it's a different challenge and these guys are no different. They have firepower."
The Bears are determined to generate a consistent pass rush against Manning despite numerous injuries that have decimated their defensive tackle position. Henry Melton and Nate Collins have suffered torn ACLs in the last three weeks, while Stephen Paea will be a game-time decision Thursday night after missing Sunday's loss to the Saints with a toe injury.
Corey Wootton is expected to move inside from end to the three technique for the second straight game, while Landon Cohen and perhaps even undrafted rookie Zach Minter will rotate in at tackle.
"We have to eliminate the big play," Tucker said. "These guys take more shots down the field than almost anybody in the NFL. They're in the top of the league in air yards (10th) and shows down the field, so that's big. [Manning] is a fierce competitor. There's not a whole heck of a lot you can throw at him that he hasn't seen. He's got good firepower around him; backs, receivers and tight ends that are a dangerous group.
"We're going to have to play as a team; work hard to fit the run. In the pass game, keep everything in front, not give up the big play. When we get a chance to get off the field on third down, we've got to do that so we don't expose ourselves to more plays. We have to be more opportunistic on defense. Our job is to get stops and take the ball away and score for our offense."