The profile on Khaseem Greene's Twitter account proclaims that the linebacker from Rutgers has "been chasing my dreams since I was 5 and I'm getting really close to grasping them!"
One of those dreams became reality Saturday when the Bears selected Greene in the fourth round of the NFL Draft. The 6-1, 241-pound converted safety arrives in Chicago after being voted the Big East defensive player of the year each of the past two seasons.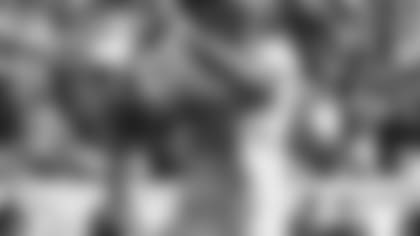 ](/multimedia/photo-gallery/Khaseem-Greene/82aa6b41-d60e-4e0d-a4c1-09a3db0951f9)
Click to view a photo gallery from Greene's collegiate career.
"I'm coming into a great situation at basically the NFL equivalent of Linebacker U," Greene said during a conference call with the Chicago media. "I'm just extremely happy and excited to be in this position, to come into such a great organization and be able to compete."
After starting all 13 games at safety in 2010, Greene was moved to weakside linebacker, where he thrived. As a junior in 2011, the New Jersey native led the Big East with 141 tackles while also recording 14.5 tackles-for-loss, 3.5 sacks and two forced fumbles in 13 starts.
Last year Greene registered 136 tackles, 12 tackles for loss and six sacks with five pass breakups, two interceptions, six forced fumbles and two touchdowns on fumble recoveries. He leaves Rutgers as the NCAA's all-time record holder with 15 forced fumbles.
"I don't give up on any plays," Greene said. "My mentality is I want to get the ball back and I want to get it to my offense or it would be even better if the defense could pick it up and score.
"That's my philosophy when it comes to defense is getting to the ball, creating takeaways and then just going from there. It's always instilled in my head. It's something that I worked on for the last five years at Rutgers and I'm definitely going to still work on it going forward from here."
Greene hit it off with Mel Tucker during a pre-draft visit to Halas Hall and is eager to begin working with the Bears' new defensive coordinator.
"Honestly, I love him," Greene said. "When I sat down with him, he told me I reminded him of a player he coached once before (Justin Durant with the Jaguars). He liked what he had seen of me on film and those were the things that made me feel real good and feel real confident.
"I'm excited to get down there and work for him. I'm so excited to get there to Chicago and work, compete and show everybody why I deserve to be there. Even right now just talking about it is kind of getting me worked up because I've played football since I was five years old. I can't even sum it into words how good it feels to be a part of something so special."
Greene's knowledge of the Bears' storied linebacker legacy extends back to before he was born.
"I know what I've seen and also about back in the day when guys like [Dick] Butkus and [Mike] Singletary were the terrors of Chi-Town," said the 24-year-old. "It's definitely Linebacker U and if you want to be a young linebacker or be a veteran linebacker or go down in history as one of the greats, I don't see a better place to be."
Greene revealed that some 3-4 teams were looking at him as an inside linebacker, while most 4-3 clubs projected him at the weakside position. He's confident that he can line up at either spot.
"I know I can play inside or outside," Greene said. "Whatever the Bears need from me, I am going to work my hardest to do it and work my hardest to be that guy who is actually going to be productive when it's time for me to play."
Greene feels that playing safety early in his college career helped him become a better linebacker.
"The most important thing it did for me was teach me the value of coverages; covering the slot, covering the tight ends and covering running backs once I moved to linebacker," he said.
"It was extremely easy for me to pick up covering running backs and anticipate what those guys were doing and what kind of moves they would be making. Safety was just great for me."