Only a small percentage of NFL players become megastars, with eight-figure signing bonuses and legions of adoring fans faithfully wearing their jerseys.
The vast majority, like unheralded Bears receiver Joshua Bellamy, battle for their professional lives in anonymity on a daily basis. They know they must overcome obstacles and adversity and take advantage of every opportunity.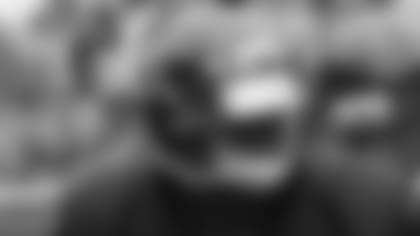 Josh Bellamy has four catches for 27 yards in the Bears' first two preseason games.
"Pretty much my whole career has been like this, trying to find my way to the top," said Bellamy, who has been released six times by four different teams since entering the NFL with the Chiefs in 2012 as an undrafted free agent from Louisville.
"Even when I first went to Kansas City, I was an undrafted free agent. So I knew when I got there I had to fight my way to the top. The only thing I got was one-on-ones when I first got there. I didn't really get any reps [in team drills]. I just had to keep fighting and I'm still in the league and I'm still trying to make it."
Bellamy has crisscrossed the country since entering the NFL, living in apartments and hotels but never purchasing a home. "That's one thing vets always told me," he said with a laugh. "Don't ever set anything in stone until it's in stone."
As a rookie in 2012, Bellamy was released by the Chiefs during final cuts. The 6-foot, 208-pounder was re-signed to Kansas City's practice squad before the start of the season and played in the team's final three games.
Released again by the Chiefs during final cuts in 2013, Bellamy spent two months on the Chargers' practice squad before being waived. He then joined the Redskins' practice squad and appeared in Washington's last five games—all of which were losses.
After being waived by the Redskins in April 2014, Bellamy was claimed by the Bears. He was cut twice during the season but appeared in four games, including the last three.
Despite the rocky road he's followed, Bellamy—who has played in 12 NFL regular-season games but has yet to make a reception—is still motivated to chase his dream.
"To come out here and be out here is a blessing," he said after Thursday's practice at Halas Hall. "There are only so many people who get to do what we do. So just to be out here, I always dreamed about playing on a professional team and playing on Sundays.
"Once you get here, every day is exciting, especially with this group of guys we've got. Every day we're working. [The defensive backs] are pushing the receivers and we're pushing the DBs. Every day it's a fight."
Part of Bellamy's motivation stems from his very first NFL play. It occurred on Aug. 10, 2012 in the Chiefs' preseason opener against the Arizona Cardinals.
"I was nervous as hell," Bellamy said. "Somebody went down [with an injury] and they threw me in in the first quarter. [Pro Bowl cornerback] Patrick Peterson was out there and I was like, 'Man, I've got to show up.'
"I knew the ball was coming to me and I ran my route too far and the ball got up on me fast and I dropped it. And I was like, 'Dang, I never want to make that mistake again. I always want to be on top of my game and know what's going on so I'm on the same page as the quarterback.'"
Bellamy has been on top of his game this summer, catching four passes for 27 yards including a 12-yard touchdown in the Bears' first two preseason games.
In preparing for Saturday night's contest against the Bengals in Cincinnati, Bellamy is determined to take advantage of a rare opportunity. With the Bears' top four receivers dealing with injuries—Alshon Jeffery, Eddie Royal, Kevin White and Marquess Wilson—Bellamy figures to get extended playing time with the No. 1 offense.
"Being in there with Jay [Cutler] and the starting o-line and Marty [Bennett] and those guys and getting that feel, that's big for me," Bellamy said. "Out here I practice with them. I get thrown in there with those guys from time-to-time, so it's nothing new out here. But in the game it's different."