The following is the fourth of nine position previews in advance of training camp.*
Equally adept as a pass receiver and blocker, tight end Martellus Bennett returns for his second season with the Bears as an integral part of their explosive offense.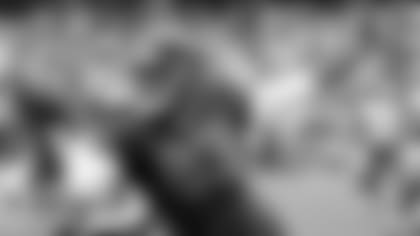 Martellus Bennett tallied 759 yards and five touchdowns in 2013.
In his first year in Chicago, Bennett established career highs with 65 receptions and 759 yards and matched a personal best with five touchdowns. His 65 catches were the second most by a tight end in Bears history, topped only by Hall of Famer Mike Ditka's 75 receptions in 1964.
Bennett proved to be an immediate difference-maker, catching three key passes for 43 yards and one touchdown in a 24-21 season-opening victory over the Bengals.
A week later against the Vikings, Bennett caught two TD passes for the first time in 78 career NFL games, including a 16-yarder with just :10 to play that gave the Bears a 31-30 victory.
It appears that the leading candidate for the No. 2 spot on the depth chart is Dante Rosario. After appearing in the final 15 games primarily as a blocker last season, the 6-3, 242-pounder re-signed with the Bears in February.
Rosario caught just one pass for 13 yards last season while also recording five special-teams tackles, but he made a handful of nice grabs during offseason workouts and will look to continue producing those plays in training camp.
Rosario has appeared in 106 NFL games with 29 starts for the Panthers (2007-10), Dolphins (2011), Broncos (2011), Chargers (2012) and Bears, catching 100 passes for 1,119 yards and eight touchdowns.
Other tight ends who will battle for backup positions in training camp include Matthew Mulligan, Zach Miller and Jeron Mastrud, all of whom have NFL experience.
Mulligan spent his first five seasons with the Jets (2009-11), Rams (2012) and Patriots (2013), catching 16 passes for 160 yards and two touchdowns while appearing in 65 games with 24 starts.
The 6-4, 267-pounder entered the NFL with the Dolphins in 2008 as an undrafted free agent out of Maine. He spent time on the practice squads of the Dolphins, Titans and Jets before making his NFL debut in 2009. Mulligan was also with the Packers last preseason.
Last season Mulligan appeared in 15 games with four starts for the Patriots, catching two passes for 16 yards. He has also played in six postseason games, catching one pass for six yards.
Miller spent three seasons with the Jaguars (2009-11), compiling 45 receptions for 470 yards and 4 TDs.
Mastrud has appeared in 52 games with 18 starts over four seasons with the Dolphins (2010-12) and Raiders (2013), catching seven passes for 96 yards. Last season the 6-6, 255-pounder played in all 16 games with 12 starts for Oakland, recording six receptions for 88 yards.