Bears receiver Earl Bennett was in a giving mood Thursday, donating 132 Amazon Kindle e-readers to the Boys & Girls Clubs of Greater Chicago through his Legends for Literacy program.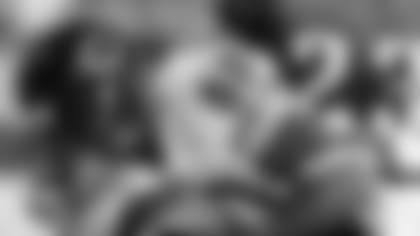 Bears wide receiver Earl Bennett is eager to learn new head coach Marc Trestman's offense.
Bennett made the donation at the Logan Square Boys & Girls Club in Chicago, where he answered questions from children and reminisced about when he stood in their shoes as a young boy growing up in Alabama.
"It's all about the kids today," Bennett told a group of reporters. "I'm here giving away e-readers to help the kids with reading. Reading is fundamental. The Boys & Girls Club is real important to me because I grew up going to the Boys & Girls Club in Birmingham.
"I was a pretty avid reader. I loved to read. My mom preached it. She wouldn't let me play sports unless I had good grades. I definitely am a big fan of academics."
Bennett's Legends for Literacy program has provided $12,000 to the Boys & Girls Clubs of Greater Chicago to buy the Kindles and book downloads for children to read on the devices.
"I am very excited to be able to provide these e-readers to children throughout Chicago," said Bennett, who was selected by the Bears in the third round of the 2008 draft. "This program helps to make reading more interactive and fun for kids in disadvantaged situations, which will help to raise reading levels."
Bennett no doubt will spend a lot of time reading new Bears coach Marc Trestman's playbook this offseason. The sixth-year receiver is especially eager to learn Trestman's system after speaking with him Wednesday at Halas Hall.
"I like coach Trestman," Bennett said. "I got a chance to meet with him and talk with him about my role and just talk football, and it was a lot of fun."
Trestman joins the Bears after spending the last five seasons as head coach of the Montreal Alouettes in the Canadian Football League, compiling a 59-31 record and winning back-to-back Grey Cup titles in 2009 and 2010.
Prior to that, Trestman earned a reputation for developing quarterbacks such as Steve Young and Rich Gannon during 17 years as an NFL offensive coordinator and position coach.
"We're just going to run his system," said Bennett, who caught 29 passes for 375 yards and two touchdowns in 2012. "I look forward to learning it and hopefully my role will be expanded a lot [more] this year than it was last year.
"I'm antsy to get the playbook and go through it and see what type of plays he has and what he has drawn up. I'm pretty sure it's going to be a lot of fun."