During a recent interview session, Martellus Bennett talked about taking his daughter to a pumpkin patch, healing from injuries like Wolverine and wanting to build a ball pit in his home.
The gregarious tight end always talks a good game—but so far this season he's playing an even better one. Through four games, Bennett leads Bears receivers with 29 catches and 295 yards and ranks second on the team with four touchdowns.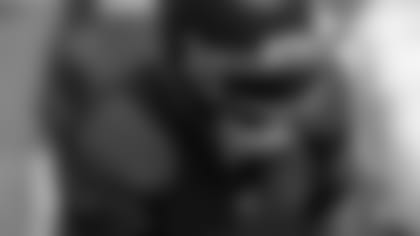 Martellus Bennett posted the first 100-yard game of his career against the Packers.
After establishing career highs with nine receptions and 134 yards in Sunday's loss to the Packers, Bennett is on pace to finish the year with 116 catches, 1,180 yards and 16 TDs. His 29 receptions rank second among NFL tight ends and his four TD catches are tied for second at the position.
"I always felt explosive and I always felt strong and kind of beastly on the field," Bennett said. "But I think right now it's really just getting a taste of success."
Bennett spent his first four NFL seasons with the Dallas Cowboys, serving as Jason Witten's backup from 2008-11. After playing for the New York Giants in 2012, he joined the Bears in 2013 and set career highs with 65 receptions and 759 yards while matching a personal best with 5 TDs.
"Last year I felt like I was starting to feel my own groove and this year I feel like guys have to plan for me," Bennett said. "I felt like I was game-planning for guys at first and nobody was really worried about me. But now I feel like guys have to account for me because of the way I go about my game and the things that I learned through the journey of my career."
Roster moves: The Bears on Tuesday promoted receiver/return specialist Chris Williams from the practice squad and waived receiver/return specialist Rashad Ross.
Williams has spent the last two weeks on the practice squad after making his NFL debut in a Week 2 win over the 49ers. A former CFL star, he originally joined the Bears during the final week of the 2013 season when he was signed off the New Orleans Saints' practice squad.
Ross appeared in the last two games for the Bears, averaging 21.2 yards on five kickoff returns.
Carey on: After seeing limited action in the first three games—rushing for four yards on two carries—rookie running back Ka'Deem Carey gained 72 yards on 14 attempts versus the Packers.
"A lot of people got to see what we see in him," said coach Marc Trestman. "He's a hard runner. He's physical. He doesn't back down. He's got great quickness and great vision in the hole.
"It was a great opportunity for him to get some reps, and we're going to need him. We're going to need everybody. I think we saw it's not too big for him. He's got a chance to continue to get better and help us."
The Bears will continue to lean on starting running back Kyle Long, who rushed for 122 yards on 23 carries and caught five passes for 49 yards against the Packers. But Carey will also get his opportunities, even joining Forte on the field like he did on a handful of plays Sunday.
"Matt's going to touch the ball quite a bit," Trestman said. "Matt's touches were certainly high [Sunday] and he's going to need a break. We're going to mix Ka'Deem in there and at times, [and] they're going to be in there at the same time."
New time: In case you missed it Sunday, the NFL has changed the time of the Bears-Falcons game Oct. 12 in Atlanta from noon to 3:25 p.m. (CT) as part of its flexible scheduling.