Martellus Bennett played his first four NFL seasons with the Dallas Cowboys. But the Bears tight end insists there's nothing special about facing his former team Monday night at Soldier Field.
"It's just another game." said Bennett, who was with the Cowboys from 2008-11. "I try to go out there and ball. I try to ball every single week. I just try to do what I can to be the man."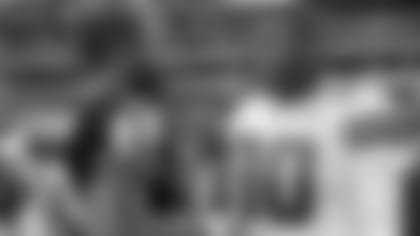 Martellus Bennett chats with Julius Peppers after a Bears-Cowboys game in 2010 in Dallas.
While facing the Cowboys may be "just another game" to Bennett, the 6-6, 265-pounder feels much differently about the opportunity to play on Monday Night Football.
"I like to be the only game on TV, so it is kind of fun when everybody's watching you in the world," Bennett said. "You want to be in that Monday night game, so I'm super excited about it.
"Make sure I got some nice shoes on and my uniform looks right before the game starts so I look good on TV. Make sure I'm a little bit slimmer, you know; try to be a tight end with a tight end.
"Prime-time games are a little bit different than any other games, a lot better than playing at 12 o'clock. Some people are still probably in church praising the Lord or just waking up."
Playing behind star tight end Jason Witten with the Cowboys, Bennett caught 85 passes for 846 yards and four touchdowns in 60 games over four seasons. An eight-time Pro Bowler, Witten is the franchise's all-time leader with 860 receptions.
"Witten's a great tight end," said Bennett, who joined Dallas as a second-round pick. "I respect his game. There are a lot of things he does well and a lot of things that I learned from him.
"But at the end of the day, sometimes you're just at the bottom of the totem pole and the message doesn't make it all the way down from the top, so you just try to get the scraps. It's kind of like when somebody invites you over for dinner, but they don't make you a plate."
Leaving the Cowboys to sign with the Giants in 2012, Bennett established career highs in all receiving categories with 55 catches, 626 yards and five TDs while starting all 16 games for the first time.
In his first season with the Bears, Bennett has caught 48 passes for 545 yards and five touchdowns.