After missing two games with a hand injury, Bears receiver Earl Bennett practiced without pain Monday and hopes to play in next Monday night's home game against the Detroit Lions.
"My hand feels good," Bennett said. "I got a chance to run around and catch the ball. No pain at all. I feel good. I feel real confident, just coming out here, getting ready, staying mentally focused and just getting ready to execute on Monday night."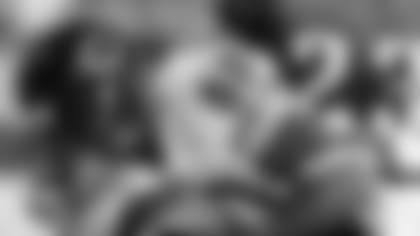 Earl Bennett has been an integral part of the Bears  offense, especially on third down plays.
Watching the Bears offense amass 861 total yards in back-to-back routs of the Cowboys and Jaguars, Bennett has missed partaking in the success.  
"Those guys are out there making plays and having fun," he said. "We're winning, and it's tough to sit back and just watch and not be a part of the fun."
The last time the Bears played the Lions, Bennett caught eight passes for 81 yards in a 37-13 win last Nov. 13 at Soldier Field. No other Bears receiver had more than one reception in the game.
Bennett's return will help offset the loss of rookie receiver Alshon Jeffery, who injured his hand while catching a 10-yard touchdown pass in the Bears' win in Jacksonville.
"Earl has helped us win a lot of games around here," said coach Lovie Smith. "It was hard for him to be out, but when you have a good player like Alshon that goes down and you can replace him with a guy like Earl, it says a little bit about how strong our 53-man roster is."
The news on the injury front Monday wasn't as good for the Lions, who announced that running back Jahvid Best was not cleared to return to action after undergoing post-concussion tests last week. Best hasn't played since Oct. 16, 2011 after he suffered his second concussion.
"Throughout this entire process we always have placed the highest priority on what is best for Jahvid from a health and safety standpoint," Lions general manager Martin Mayhew said in a statement.. "While today's decision is disappointing from a football perspective, we fully and entirely respect and support this recommendation.
"Jahvid will continue to work with our medical and training staffs with the hope that he ultimately will be cleared to return to the playing field."
Best, who had concussion issues in college, has appeared in 22 games with 15 starts since joining the Lions as the 30th overall pick in the first round of the 2010 draft. He has rushed for 945 yards and six touchdowns on 255 carries and caught 85 passes for 774 yards and three TDs.