After dropping a short pass on the Bears' first play from scrimmage in Sunday's season opener, tight end Martellus Bennett didn't wait very long to make amends.
[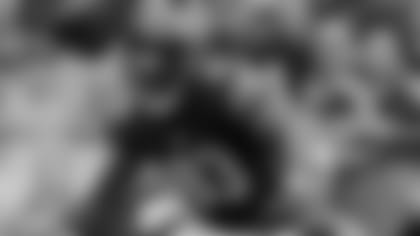 ](http://www.chicagobears.com/multimedia/photo-gallery/AP-Bears-vs-Bengals/1499d271-17d6-439d-92fa-2708ae47a9e8)

Martellus Bennett tallied 49 yards and one touchdown on three receptions against the Bengals. Click to view photos from the game.
On his team's second possession, the 6-6, 265-pounder soared high in the back of the end zone to snare an 8-yard touchdown pass from Jay Cutler. Bennett hung onto the ball despite tight coverage by Bengals safety George Iloka, giving the Bears a 7-0 lead en route to a 24-21 victory.
"I missed the first catch," Bennett said. "Jittery, first game. Soldier Field, anxious. I tried to do too much with the first one, so it was good to come back with a strong catch. [Cutler] trusted me enough just to put it up there where I could get it over the defenders and I was able to come down with it. I had to channel my inner Brandon Marshall.
"My first catch ended up being a drop as a Bear. I bet everyone was like, 'Here we go again.' But yes, my first catch was a touchdown, which was big. That's what I'm here for, to try to score as many as I get. The guys were happy for me and I'm just excited to be out there."
Bennett also had a 30-yard reception to set up Matt Forte's 1-yard TD run in the third quarter and an 11-yard catch on third-and-eight to sustain the Bears' final clock-killing drive of the game.
Century club: Marshall caught a team-high eight passes for 104 yards and one touchdown. It was his eighth 100-yard receiving game as a member of the Bears and the 27th of his career.
With the Bears trailing 21-17 early in the fourth quarter, Marshall caught a 38-yard pass from Cutler while streaking down the right sideline on third-and-three. The two later capped the drive by connecting for the game-winning 19-yard TD pass in the left corner of the end zone.
"B Marsh was one-on-one on the corner route, which we love to throw," Cutler said. "I put one up for him. I wish I could have gotten it to him just a little sooner; he probably wouldn't have had to take that hit. But he did a great job of catching it and clutching it."
Marshall was surprised to find himself covered one-on-one by safety Reggie Nelson.
"I didn't understand it," Marshall said. "Fourth quarter, with a safety on me one-on-one. I can only ask for that and dream about that. I tried to sell the inside route. He jumped it a little bit and we had a clear lane. The ball bounced our way today."
Dialing long distance: Robbie Gould's 58-yard field goal late in the first half was the longest in Bears history, eclipsing his 57-yarder on Dec, 11, 2011 in Denver.
Gould has now made 11 straight field goals from 50 yards and beyond, tying the NFL record set by Tony Zendejas from 1988-93. The Vikings' Blair Walsh also tied the mark Sunday.
Gould is now 14 of 18 (77.8 percent) from 50 yards and beyond in his career, third best in NFL history for kickers with 10 or more field goal attempts from that distance.
Key play: One play before Marshall's game-winning touchdown catch, Forte gained eight yards on fourth-and-one, rushing around right end behind rookie linemen Kyle Long and Jordan Mills.
"A lot goes into that decision; the right side, what the front is, all those types of things," said coach Marc Trestman. "It was the best play at the time, and the guys did a heck of a job. We got the first down, we were able to run some clock off certainly. It was a game-defining moment, that fourth-and-one, no doubt about it."