Tight end Martellus Bennett was honored as the Bears player of the year Monday night at the 26th Annual Comcast SportsNet Awards at the Hilton Chicago & Towers.
In his first season in Chicago, Bennett established career highs with 65 receptions and 759 yards and matched a personal best with five touchdowns. His 65 catches were the second most by a tight end in Bears history, topped only by Hall of Famer Mike Ditka's 75 receptions in 1964.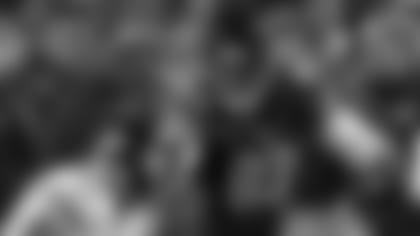 Martellus Bennett caught 65 passes for 759 yards and five TDs in his first season with the Bears.
In an entertaining acceptance speech, Bennett recalled how his perspective changed last summer when his wife, Siggi, told him that she was pregnant with their first child, who is due in March.
"I started thinking about the world," Bennett said. "I was like, 'What is the world going to be like for my daughter?' So from that moment, my whole life aspect changed. I was like, 'What can I do? What can I bring to the world that would make it better for her?' My No. 1 thought was, 'What does the world need?' And it came back to imagination because imagination would be how our kids would bring solutions for the problems that we have.
"So immediately I was like, 'What can I do to make a difference?' What I learned is to lead by example. I'm pretty creative, so I was like everything I've created I'm just going to start sharing with the kids and sharing with everyone else in the world.
"Where I'm from you feel like you've got to dribble a ball or catch a football to get out of the hood. But I want kids to know that you can get scholarships for creative writing, for band, you could do film, you could do writing."
Other Chicago athletes who were honored at the Comcast SportsNet Awards included Nazr Mohammed (Bulls), Welington Castillo (Cubs), Nate Jones (White Sox), Patrick Sharp (Blackhawks) and Mike Magee (Fire). The athletes were chosen based on the contributions they made to their teams as well as to the Chicago community.
The annual event, which was emceed by Comcast SportsNet's David Kaplan, benefits the March of Dimes and has raised more than $10 million since its inception 25 years ago.
Blackhawks legend Stan Mikita received a lifetime achievement award, and 18-year-old Alyssa Gialamas from Waubonsie Valley High School in Aurora was recognized as the winner of the March of Dimes Inspirational Athlete Award. The Naperville resident is a Paralympic swimmer who has persevered as a standout athlete, student and ambassador despite being born with a birth defect.
The March of Dimes is the leading nonprofit organization for pregnancy and baby health that works to improve the health of babies by preventing birth defects, premature birth and infant mortality. For the latest resources and information, visit marchofdimes.com or nacersano.org.