Tight end Martellus Bennett was reinstated by the Bears Sunday, five days after being fined and suspended by the team following an altercation in practice with cornerback Kyle Fuller.
"I'm very excited to be back," Bennett said outside the dining hall at training camp, "to be out here with the guys, working back to our ultimate goal, which is getting to a championship."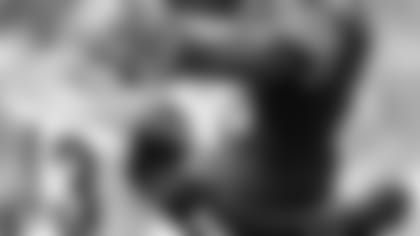 Martellus Bennett matched a career high with five touchdown receptions last season.

Bennett participated in Sunday's practice. During the suspension, the seventh-year pro missed two practices and Friday night's preseason opener against the Eagles.

"It's always tough," Bennett said. "You always want to get out there and do what you do, but it is what it is. I'm happy to be back and get on the field today and run around and fly around."

The altercation last Monday in practice began when Bennett caught a pass just shy of the goal line. Fuller appeared to attempt to force a fumble but instead spun the veteran tight end to the ground. An incensed Bennett jumped to his feet, grabbed the rookie and slammed him down.

Asked by a reporter Sunday whether he felt that in hindsight he had crossed a line, Bennett conceded: "I think I could have handled the situation differently."

Bennett declined to reveal exactly what the Bears needed to hear from him, saying only: "We keep that in-house. I did everything they asked me to do. That's why I'm standing in front of y'all right now. Everything they asked me to do I did and I did it exceptionally well."

Asked what lesson he learned from the situation, Bennett said: "Now I understand how they want me to practice. I've always been a guy who practiced hard. I understand what they want from me and [I'll] just do it the way they want it to be done.

"I think everything in life is about learning lessons. Whatever situation you're going on through life, you always learn from it, whether it's good or bad. Whatever it may be, there's always a lesson or a moral to the story."

Bennett returns to the Bears looking to build on last season's success. In his first year with the team in 2013, he established career highs with 65 receptions and 759 yards and matched a personal best with five touchdowns. His 65 catches were the second most by a tight end in Bears history, topped only by Hall of Famer Mike Ditka's 75 receptions in 1964.

Asked what the Bears want from him as a player and teammate, Bennett said: "I feel like I've always been a great teammate. I think they want me to continue to be the player I've been and continue to play the way I've been playing and perform highly on the field."

Bennett said it was tough watching the preseason opener, but he was proud of how his fellow tight ends performed. Zach Miller led the Bears with six receptions for 68 yards and two touchdowns, Dante Rosario had two receptions for 28 yards and Jeron Mastrud had two catches for 16 yards.

"You want to be out there with the team, but I thought the tight ends did me proud, so I was super excited for them," Bennett said. "Zach was out there balling. He had some YAC [yards after the catch]. Dante caught a big ball across the middle. Everybody caught a pass except for [Matthew] Mulligan, so I saw Mulligan today and I was like, 'You're the only one who didn't catch a pass besides myself.'

"I thought they played exceptionally well. I think we had over 100 yards as a tight end group. To see all those guys get a chance to go out there and do what we've been working on together and having them perform at a high level, I was super excited for them. I thought they played well and I was extremely happy about that."

Bennett told reporters that he received a warm welcome from teammates when he rejoined them Sunday.

"They love me and I love the guys," he said. "I got a lot of hugs and high-fives and slaps on the butt and all that good stuff and a lot of jokes. I think the moment they saw me most guys just started laughing because they wanted me to say something funny. But they all seemed very happy to have me back around.

"Guys [said] they missed me; I missed the guys. That's one of the best things about playing this sport is your friendships with the guys that you play with."