After sitting out the entire voluntary portion of the Bears' offseason program, tight end Martellus Bennett returned to Halas Hall Tuesday to participate in the team's mandatory minicamp.
"I thought he had a good first practice and I'm pleased with his progress," said coach John Fox. "He'd even tell you that there's nothing like practicing football to get in shape. He's obviously been in an offseason conditioning program. But he handled himself pretty well today."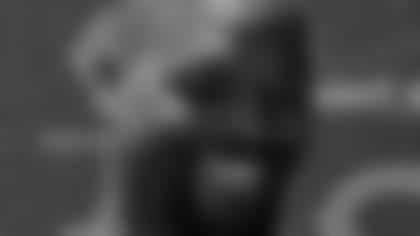 Martellus Bennett talks to reporters after minicamp practice Tuesday at Halas Hall.
Bennett told reporters that he's been working out at a facility owned by former Bears teammate Brandon Marshall. While Fox would have preferred to have had the tight end at Halas Hall the past two months, the veteran coach is well aware that those workouts were optional.
"It's kind of the rules of our league; what we have to operate with," Fox said. "My job is to make sure he's the best he can be and that's what I'll be trying to do moving forward."
Quarterback Jay Cutler is confident that Bennett will be able to make up for lost time in terms of digesting the new offense by "learning the lingo and learning the technique we want him to use."
"He's super-smart," Cutler said. "It's going to come pretty quickly. He was out there doing some plays that we were going to hold him back from, but he picks things up so quickly."
Bennett, who said that he intends to report to training camp on time, isn't concerned that he has fallen too far behind.
"We're only out here for three days and then it's training camp and they install all over again," Bennett said. "A lot of guys, they know a lot of stuff we're doing. But I'm pretty intelligent, so I pick up on it pretty quick."
Cutler revealed that he and other Bears players have been in contact with Bennett.
"All of us reached out to him at certain points throughout the offseason," Cutler said. "He wanted to be here. There is a business side to this and he feels passionate about his position. So it is what it is. We're happy he's here right now and will continue working with him when he's here."
Bennett, who has two years remaining on the four-year contract he signed with the Bears in 2013, had a stellar 2014 season. He caught 90 passes for 916 yards and six touchdowns, all career highs. His 90 catches were the most by an NFL tight end and the most by a Bears tight end in a single season, eclipsing Mike Ditka's record of 75 set in 1964.
Asked if he's satisfied with his current deal, Bennett said: "I'm always working on a new contract.
"I think that everybody, even you [reporters], should be lobbying for new contracts. If your performance is at a high level and you're playing to a high level, then you want to be compensated for the level that you play at.
"Most people don't honor their damn phone contract; they switch from Sprint to T-Mobile. It's just like being in an apartment and getting out of your lease because you want to find a better apartment or something better. It's all phases of life. It's no different for me than it is for everybody else.
"I think every American, every person in the whole world, should be trying to get a new contract, and if they're not, it's silly. For me right now, [I'm going to] just continue to work and outperform whatever it is you need to do and you just come back here and ball out."
While Fox's first order of business this week is to get to know Bennett as a player and person, the Bears coach understands that the tight end is capable of being an impact player.
"The game's about matchups," Fox said. "The tougher matchups you can create for the opponent's defense, the better. He's got all the physical tools it takes, both as a blocker and as a pass catcher. Those are both important skill sets for that position. He proved what he's capable of a year ago and hopefully we can duplicate that and then some this year."