The Bears on Wednesday ruled tight end Martellus Bennett out of Thursday night's game against the Packers in Green Bay with a rib injury.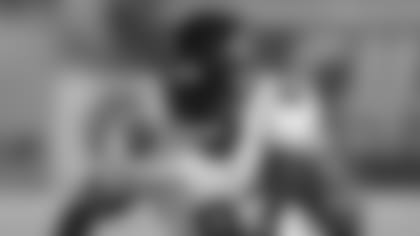 Martellus Bennett ruled out of Thursday night's game against the Packers with a rib injury.
Bennett had played in all 36 games since signing with the Bears as a free agent in 2013. Up until this point he has missed only four contests in eight NFL seasons with the Cowboys (2008-11), Giants (2012) and Bears.
Bennett tops the Bears with 50 receptions and is tied for the team lead with three touchdown catches. Among NFL tight ends, he's tied for second in receptions, is fourth in receiving yards and is tied for eighth in TD catches since joining the Bears.
Receiver Eddie Royal (knee) and running back Ka'Deem Carey (head) have also been ruled out of Thursday night's game. It will be the fourth straight contest that Royal has missed, while Carey suffered a concussion in last Sunday's loss to the Broncos.
Bears players who are questionable are running back Kyle Long (knee), receiver Alshon Jeffery (groin), outside linebacker Pernell McPhee (knee), safeties Antrel Rolle (knee) and Sherrod Martin (neck) and linebacker LaRoy Reynolds (knee).
One-two punch: Forte is expected to play after missing the last three games. It will be interesting to see how the Bears incorporate the veteran along with rookie Jeremy Langford, who produced 324 yards from scrimmage in back-to-back wins over the Chargers and Rams.
"Any time you've got two really talented running backs, it's not going to be a problem," said offensive coordinator Adam Gase. "You're always trying to find the hot hand.
"I think Matt Forte's getting back; it's going to be exciting for me. I felt like we had a great rhythm going when he was in there. I thought Jeremy did a great job as far as stepping in and keeping that momentum going, and now we have a chance to have a really interesting 1-2 punch here with Matt and Jeremy.
"We'll just see how the game plays out. It's so hard to predict, 'Hey, one guy's going to get this many touches, this guy's going to get this many touches.' You just kind of see how it's going to play out. Just knowing those two guys are back there makes me feel very comfortable calling plays."
Seeing red: Gase feels that he can solve some of the offense's red-zone woes by calling better plays on first down. The Bears rank 29th in the NFL with a touchdown percentage of 41.2 in the red zone (14 TDs on 34 possessions).
"One of the things that I keep going back to is these first-down calls that I'm giving," Gase said. "I'm leaving us in second-and-eight or second-and-nine and not really putting us in a good position.
"Then there is a little press and it's third-and-nine. We're not putting ourselves in a good spot. When you get third-and-nine from the 18-yard line, that's a tough down and distance. You don't have a lot of options. The field is really tight.
"So I think our guys need to get some better calls on first and second down and then I need to allow them to make plays on some of those third-and-five or less plays. If I put them in a better spot I think we'll have some improvements in the red area."
Bad memory: The Bears have a chance to avenge last year's humiliating 55-14 loss in Green Bay. They trailed that contest 42-0 at halftime after Aaron Rodgers threw an NFL-record six TD passes in the first two quarters.
"It was embarrassing," Forte said. "It's time that the Bears stop going up there and losing games like that because if it gets out of hand it's embarrassing. You go out here and put in work to not go out there and show something like that. We just have to play better than we did last year."