Preseason games don't count in the standings, but they're anything but meaningless to unproven young players such as Bears quarterback Matt Blanchard.
The first-year pro from Wisconsin-Whitewater likely will get another opportunity to impress coaches Thursday night when the Bears host the San Diego Chargers at Soldier Field.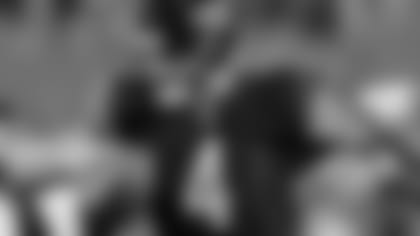 Matt Blanchard ran for two first downs late in last Friday night's preseason opener in Carolina.
Blanchard excelled while playing the entire second half of last Friday night's preseason opener against the Panthers in Carolina, completing 15 of 18 passes for 194 yards with one interception. His 88.4 passer rating was the highest among the six quarterbacks who played in the game.

"I think it's great that I experienced a lot of things that I did Friday night," Blanchard said. "It's just huge growth and really something to build on. I get minimal reps in practice, so the preseason and getting live reps, it's super important."

Blanchard originally joined the Bears in 2012 as an undrafted free agent after participating in the rookie minicamp on a tryout basis. In the preseason last summer the 6-3, 225-pounder completed 9 of 16 passes for 94 yards with one interception and a 47.4 passer rating.

A year later, Blanchard was much more comfortable and knew what to expect when he stepped on the field against the Panthers.

"There was just a lot of unknown last year and that's just part of the territory of being a rookie," Blanchard said. "Luckily a lot of that unknown wasn't with me this game, so I was able to calm the guys down when we needed to bounce back and be efficient."

In addition to producing the game's longest play from scrimmage with a 58-yard pass to rookie receiver Marquess Wilson, Blanchard led the Bears in rushing with 26 yards on four attempts. Late in the game he picked up first downs on back-to-back plays with scrambles of seven and 10 yards.

"It's an important part of being mobile in the pocket," Blanchard said. "If you can escape one guy and get a couple of yards, that's super important. It saves a loss and we're moving the ball."

Bears offensive coordinator Aaron Kromer was impressed with Blanchard's performance.

"Matt Blanchard went out and just executed the plays that were called," Kromer said. "When they broke down, he ran. Whether it was protection or a route breakdown, he took off running. He had a good outing in Week 1."

Like anyone who plays his position, Blanchard would love to chuck the ball down field. But he knows he must take what the defense gives him and limit high-risk throws to limit interceptions.

"Being a quarterback you want to take shots, but you have to be disciplined enough to check the ball down," Blanchard said. "In this offense a lot of it is being accountable and listening to your feet and trusting your drops and trusting your progressions. If you're a good student and you apply those things, you're going to take care of the football."