Unlike most of the participants at this weekend's rookie minicamp, quarterback Matt Blanchard isn't looking to make a strong first impression with the Bears.
The Lake Zurich native already did that in last year's rookie minicamp, earning a contract with his hometown team and spending the first 13 weeks of the season on the Bears' practice squad.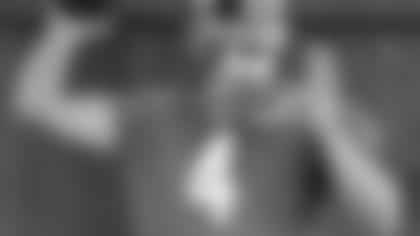 Quarterback Matt Blanchard has impressed first-year coach Marc Trestman.

Twelve months later, Blanchard is hoping to hone his skills and take advantage of some rare reps as he prepares to battle for a roster spot this summer in training camp.

"It's a huge opportunity," said Blanchard, a Wisconsin-Whitewater product. "Being the third or fourth quarterback, you don't get many reps. I was ecstatic when they told me I was going to do this rookie minicamp so I can get the reps. It just gets me ready for OTAs moving forward."

The only other quarterback at the rookie minicamp is Saint Xavier's Jimmy Coy, who's participating on a tryout basis.

Last preseason Blanchard completed 9 of 16 passes for 94 yards with one interception and a 47.4 passer rating. After being released from the practice squad last Dec. 4, he re-signed with the Bears Jan. 7 and has spent the offseason learning new coach Marc Trestman's offense.

"I am a lot more confident," Blanchard said. "I have had a chance to work with Jay [Cutler] and Josh [McCown] and coach [Matt] Cavanaugh and coach Trestman. I have had a month and a half now to learn the playbook and digest it. I didn't get many reps in the first minicamp, so now I was glad I was able to put it on the field with all of the stuff I was able to learn."

Trestman has been impressed with what he's seen of Blanchard this offseason.

"I like Matt," Trestman said. "I think he's got a good base. He throws the ball well. He's very smart. He obviously has the aptitude to play the game. He's very good with our system of football. That's come to him very easily, and he throws the ball very well. He doesn't seem out of place at all to any of us, and that's why he's with us."

Speed demons: As was the case with the Bears' veteran minicamp in mid-April, the focus on the first day of rookie minicamp Friday was practicing at a very high tempo.

"First of all, it's an exciting day," Trestman said. "As coaches we recognize the magnitude of this day for players, whether they were drafted, undrafted free agents, whatever they might be. This is a dream come true for them to be on an NFL surface. We were happy to be a part of their first day and to bring them along.

"Just like our first minicamp what we tried to do today was spend time in meetings specifically teaching them how we want to practice. And I think you could get a sense for that out here; their movement and their speed.

"We were less concerned with their assignments because they just got here. They're just off a plane and driving in here from last night. That's why we went off cards with our offense, to make sure that we could run plays and allow them to execute to some degree."

Peanut punch: Fourth-round linebacker Khaseem Greene, who set an NCAA career record with 15 forced fumbles at Rutgers, has the utmost respect for Charles Tillman's ability to create turnovers. The veteran cornerback has forced a league-high 33 fumbles since entering the NFL in 2003.

"He's the master at it," Greene said. "I have to try to catch up, and that's not going to be an easy task, but he's a great guy to learn from; somebody who changes the game in one play. It's definitely going to be fun to learn and try to take after him when it comes to causing turnovers."

Just like the Bears, Rutgers places a huge emphasis on forcing fumbles.

"It's become second nature, when you're so used to doing it," Greene said. "We used to train at practice. We would do ball disruption; strip it, punch it. When you make that second nature to you, it just happens naturally. A lot of times I do it without thinking. I see an opportunity and go do it."

Middle man: Second-round draft pick Jon Bostic, a linebacker from Florida, acknowledged that learning a new defense at his position is not an easy task.

"It's tough at first because we're the center of the defense," Bostic said. "You've got to make sure the defensive line's lined up and at the same time you've got to be on the same page with the secondary. So there are a lot of things going into it. We may have to study a little bit more than everybody else. But it's the first day.

"Coach just wanted to really get the tempo going, show us how to practice today. Tomorrow we've got to make sure we're cleaning up everything that we made mistakes on today."