The Bears rave about tight end Matthew Mulligan as a blocker. But they weren't surprised when the 6-4, 267-pounder also excelled as a receiver last Thursday night against the Jaguars.
Mulligan caught a team-high four passes for 39 yards, including a 23-yarder to the Jacksonville 2 that set up a late touchdown, helping the Bears rally for a 20-19 preseason win.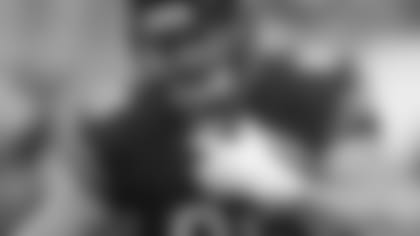 Tight end Matthew Mulligan signed a one-year contract with the Bears April 8.
"We've seen it during practice," said coach Marc Trestman. "We've seen his speed in practice, we've seen his ability to run vertically up the field and make plays, which showed up [Thursday] night and it's showed up in practice. He's shown good hands and good speed, besides his ability to block at his point of attack, so we're excited about it."
With tight end Zach Miller suffering a season-ending foot injury against the Jaguars, Mulligan's role could expand. Dante Rosario sat out the Jacksonville game with a sore calf, leaving Mulligan, starter Martellus Bennett and Jeron Mastrud as the Bears' only healthy tight ends.
Utilized in passing situations more than expected due to the injuries to Rosario and Miller, Mulligan didn't flinch. The sixth-year pro from Maine has been in similar situations during previous stints with the Jets (2009-11), Rams (2012) and Patriots (2013).
"I've played with a lot of different adversity on a lot of different teams," Mulligan said. "You obviously never want [an injury] to happen, but as a professional athlete you're expected to be able to step into whatever role you're asked to do.
"I'm a blocking guy generally and to be out there in [a passing formation] is different for me. But it's not something that's completely foreign. I had to do it last year at times [with the Patriots] when we had some guys go down.
"You just do your best. You can't expect to really fill anyone's role. I can only go out there and try to do what I can do as an athlete and as a professional and hopefully that's good enough."
Mulligan, who has caught 16 passes for 160 yards and two touchdowns in 65 career games, takes pride in his receiving ability.
"Everybody's going to drop passes at some point, but as a guy who may get four targets a year, you want to try to make them count the best you can," Mulligan said. "My forte is to block and I cherish that and I really relish it, but when I get the opportunity to catch a ball, that's fun too. At the end of the day it's all about the team and whatever I can do to help them win."
Mulligan has traversed a unique path to the NFL. His high school in Howland, Maine, did not have a football team, so he began playing the sport as a sophomore at Husson College in Maine before transferring to the University of Maine as a junior.
Mulligan entered the NFL in 2008 as an undrafted free agent with the Dolphins. He also spent time with the Titans before playing in his first regular-season game with the Jets in 2009.
Now in Chicago, Mulligan is hoping to earn a spot on the Bears' 53-man roster. But his focus remains on performing in practice and games rather than calculating his odds of making the team.
"I don't think you can get caught up in that as a professional because if you do it would make you play a little skittish," Mulligan said. "At the end of the day the only thing I can control is myself, so I can go out there and be prepared and make sure I know what I'm doing."