Former Bears kicker Bob Thomas will be presented with the Distinguished American Award Feb. 18 at the National Football Foundation Chicago Metro Chapter Awards Ceremony in Westchester.
Thomas, a Notre Dame product who played 10 of his 12 NFL seasons with the Bears from 1975-84, has been an Illinois Supreme Court Justice since 2000.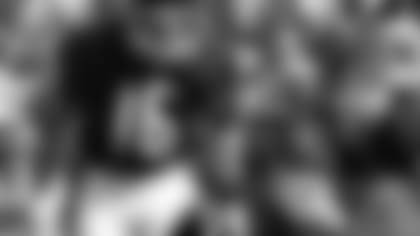 Former Bears teammates Bob Thomas (16) and Brian Baschnagel (84) are both slated to attend the NFF awards ceremony.
Thomas scored 629 points with the Bears, converting 128 of 205 field goal attempts. His 28-yarder with seconds remaining in overtime in the 1977 season finale gave the Bears a thrilling 12-9 win over the New York Giants and their first playoff berth since winning the 1963 NFL title.

At Notre Dame, Thomas was an Academic All-American who received his B.A. degree in Government in 1974. He booted the game-winning field goal in a 24-23 victory over Alabama in the Sugar Bowl, enabling the Fighting Irish to win the 1973 national championship.

Other former Bears who are expected to attend the NFF awards ceremony at Westbrook Corporate Center include Jim Covert, Glen Kozlowski and Brian Baschnagel. Bears play-by-play announcer Jeff Joniak is slated to serve as master of ceremonies.

Thanks to a dollar-for-dollar match by the Bears and Bears Care, $24,000 in college scholarships will be awarded at the event. College scholarships will be provided to three Chicago area high school seniors that excel on the football field, in the classroom and in the community: Nick Colangelo (Lincoln-Way East), Connor O'Brien (Lemont) and Zach Strittmatter (Batavia).

The Chicago Bears Community Champion Awards will be presented to three high school senior football players that have demonstrated excellence in their community and volunteer endeavors: Alex Baratta (Hersey), Mark Gorogianis (Montini Catholic) and Jack Petrando (St. Francis).

Former Illinois Wesleyan University receiver Chris Bisaillon will be honored for his 2012 induction into the College Football Hall of Fame. He will be introduced by Lincoln-Way East head coach Rob Zvonar. Bisaillon and Zvonar were co-captains on the 1992 team that finished 10-1 and ranked in the top 10 in Division III.

Previous recipients of the Outstanding Contribution to Amateur Football Award are planning to attend, including Big Ten Conference Commissioner Jim Delany (2012), BCS National Championship Game and Big Ten Referee Bill LeMonnier (2011) and Frankfort Youth Football League Co-Founder and American Youth Football Hall of Famer Carl Allegretti (2010).

The NFF Mental Toughness Award will be presented to the three local finalists for the NFF's William V. Campbell Trophy, often known as the Academic Heisman Trophy: Nabal Jefferson (Northern Illinois University DT, introduced by NIU coach Rod Carey), Patrick Ward (Northwestern University OT, introduced by NU coach Pat Fitzgerald) and Shane Zackery (Saint Xavier University WR, introduced by SXU coach Mike Feminis).

Fred Mitchell will present the 2012 Fred Mitchell Award to Fordham place-kicker Patrick Murray. The award is presented to the top FCS, Division II, Division III, NAIA or NJCAA place-kicker based on performance on the football field and in the community. Mitchell, a Chicago Tribune writer, was a top kicker at Wittenberg University in Ohio.