After a year apart, special-teams coordinator Jeff Rodgers is excited about reuniting with safety Omar Bolden, one of the Bears' key offseason additions.
Rodgers served in the same capacity on Bears coach John Fox's staff with the Broncos during Bolden's first three seasons in Denver from 2012-14.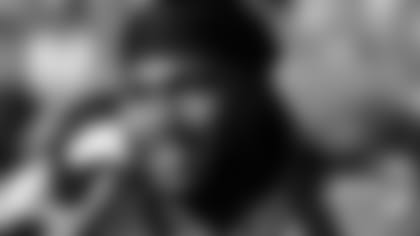 Omar Bolden averaged 24.7 yards on 77 kickoff returns and 24.6 yards on five punt returns for the Broncos.


"He's a guy who can do a lot of things and a lot of things well," Rodgers said. "Omar's a guy with a lot of versatility."
Bolden appeared in 56 games with one start for the Broncos, averaging 24.7 yards on 77 kickoff returns and 24.6 yards on five punt returns including an 83-yard touchdown. The 5-10, 195-pounder also recorded 27 tackles on special teams and 24 on defense.
Bolden played in 47 of 48 games his first three seasons under Rodgers, leading the Broncos with 12 special-teams tackles in 2013 and averaging 33.0 yards on 13 kickoff returns in 2014, tops in the NFL among players with at least 10 returns.
"He did a great job for us at gunner," Rodgers said. "He emerged as our kick returner the second half of the '14 season and did a really good job there."
Selected by the Broncos in the fourth round of the 2012 draft out of Arizona State, Bolden signed with the Bears as a free agent March 31. He's expected to battle for a kick-return job in training camp and the preseason with several other candidates.
"We're happy that we can add him to the mix," Rodgers said. "There's a lot of competition at that spot, especially after the draft, so we'll see how it shakes out, let them play, get through the preseason and see where it all settles."
Making the grade: Bears undrafted rookie cornerback Taveze Calhoun was a three-year starter at Mississippi State, but his greatest accomplishment came off the field.
Last year Calhoun was named a national scholar athlete and was a finalist for the William V. Campbell Trophy, which is considered the "Academic Heisman."
"Just to be recognized for all the hard work that I put in, it did mean a lot and that was the highlight of my college career," Calhoun said.
Calhoun earned his undergraduate degree last May—compiling a 3.5 GPA—and played last season as a graduate student. He's just two semesters away from completing work on his Master's degree but hopes to delay his studies while he pursues a pro football career.
"Just to be in an NFL locker room, it's huge. It's all I ever dreamed about," Calhoun said. "So I'm just trying to make the best of my opportunity and soak it all in because I realize that everybody doesn't get this shot. It's a big thing in my life. I worked all my life to get here, so it's important to me."
Big hitter: When the Bears selected safety Deon Bush in the fourth round out of Miami, general manager Ryan Pace described him as a "very physical player" who "throws his body around and plays with toughness."
"It's just something I always took pride in," Bush said. "I always took pride in being physical and being tough and that's just the way I play the game. I've been playing like that since I was little and I just want to keep that going."
Saying hello: Former Bears offensive lineman Josh Beekman visited Halas Hall Thursday to say hello to offensive line coach Dave Magazu, who recruited Beekman to Boston College. Beekman, who is in his first year as offensive line coach at Concord University in Athens, W. Va., also hoped to pick up some tips.
"He's always been great, telling me to say hi to my folks," Beekman said. "He's a great o-line coach, so why not try to learn from a guy like that and seek knowledge?"
Beekman, who was in Chicago to attend a USA Football camp, was selected by the Bears in the fourth round of the 2007 draft. He appeared in 28 games with 20 starts over three seasons, opening all 16 contests at left guard in 2008.
Beekman has always thought about becoming a coach—his dad coached him in high school—and is inspired by his position coach at Boston College, Don Horton, who is suffering from Parkinson's disease.
"Everyone is touched by what he did for them," Beekman said. "He tried to make them better men, and if I can do that with just one kid that will be tremendous."