One of the Bears' most intriguing roster battles heading into Thursday night's preseason finale in Cleveland is being waged by Lorenzo Booker and Armando Allen for the third running back job.
And given that Matt Forte and Michael Bush are expected to get the majority of playing time on offense this season, the competition could hinge on how Booker and Allen perform on special teams.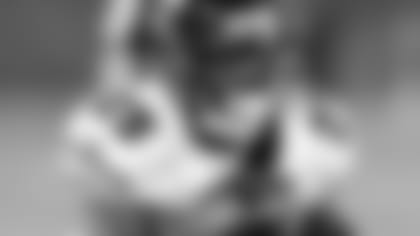 Armando Allen signed with the Bears last season after being released by Tampa Bay.
"They are both very close," said special teams coordinator Dave Toub. "That is one of the battles that we are having. That is going to come to a head here during that game.

"They are both playing the same positions on special teams and they're back-to-back. One guy goes and the next guy comes in, and we're evaluating them that way on special teams."

In three preseason games, Booker has rushed for 27 yards on 10 carries and caught four passes for 30 yards, while Allen has rushed for 14 yards on 10 attempts and caught five passes for 31 yards.

Booker also returned a kickoff 105 yards for a touchdown against the Redskins-making two excellent cutback moves to avoid tacklers-which may give him an edge.

"When you get a chance you need a splash play to make everybody take notice," said coach Lovie Smith. "The kickoff return did that. He has a history in the league too. In every situation we've put him in we've seen something special from him. He's a little bit different than our other running backs too-a quick guy-so he brings a different dimension to the rest of the group."

Booker signed with the Bears in July after spending four NFL seasons with the Dolphins (2007), Eagles (2008) and Vikings (2010-11). Released by Philadelphia before the 2009 campaign, the 5-10, 201-pounder played for the Hartford Colonials in the United Football League in 2010.

Booker joined the Vikings late in the 2010 season and averaged 23.8 yards on 18 kickoff returns over the final four games. He then appeared in 15 contests last year, rushing for 52 yards on 13 carries, catching eight passes for 82 yards and averaging 23.7 yards on 19 kickoff returns.

Booker knows what's at stake Thursday night against the Browns, but the Florida State product isn't putting any undue pressure on himself to perform.

"It's the same as every other game," Booker said. "You've just got to focus on doing your job one play at a time and let the chips fall where they may. I don't control what goes on up there in the coach's office and I don't want to stress myself out like that. This is my sixth NFL training camp, so if I haven't learned that by now then I don't know what I was doing before."

Booker has given Bears coaches a glimpse of how he's capable of performing this preseason.

"I feel like I've played to my strengths, which for me is in the return game and being able to create plays in space and make people miss," Booker said. "The good thing about that return is I was able to cover all of that in one play. But there's more to me as a player.

"I've started at PP (punt protector) for Minnesota towards the end of the year and I've played a bunch of different positions on other special teams units. I'm just as effective on those too and I feel that this week will be an opportunity to show that." ](http://bit.ly/U4CFJv)Allen entered the NFL last season as an undrafted free agent with the Buccaneers. After spending 12 of the first 15 weeks of the season on the Bears' practice squad, he appeared in the final two games, rushing for 48 yards on 15 carries against the Packers and Vikings.
"He's done everything we've asked him to do," Smith said. "He can play special teams. When you're in a reserve role, you need to be able to do a few things. He can return. There are a lot of things he can do. We have a pretty good idea how we would use him if he is on the roster."
With final cuts looming Friday, Allen is excited about the chance he'll get Thursday night in Cleveland to prove that he deserves a spot on the Bears' 53-man roster.
"It's a great opportunity," said the Notre Dame product. "The most important thing right now is just to stay focused, control what you can control and stay on the right path as far as executing your plans and doing what the coaches ask of you."
Allen knows that's especially true when it comes to his performance on special teams.
"It's real important," Allen said. "Special teams is important for the entire team. They only can keep 53 guys, so obviously a lot of guys have to play special teams, and being the third running back you're going to be expected to play a lot of special teams. It's a very important role."
Asked what he hopes to show coaches Thursday night in Cleveland, Allen said: "I'll just go out there and make those catches and runs like they want to see me make and protect well and play great on special teams. It's the only thing I can do to better myself."