It was a memorable Thursday for Bears second-round draft pick Jon Bostic, who agreed to a four-year contract and arrived at Halas Hall for this weekend's rookie minicamp.
"It's really starting to sink in now," Bostic told ChicagoBears.com while surrounded by plaques of the franchise's 27 Hall of Famers in the lobby of the training facility. "It's hard to believe that it's all here.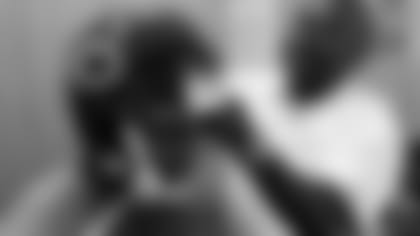 Bears second-round draft pick Jon Bostic gets fitted for his helmet Thursday at Halas Hall.

"It's something you dream about all your life as a kid and then all of a sudden you open your eyes this morning and it's right in front of you."

Bostic started at middle linebacker each of the last three seasons at Florida, recording 219 tackles, 19.5 tackles-for-loss, eight sacks and five interceptions in 39 games.

The 6-1, 245-pounder enjoyed a breakout season as a junior in 2011, registering a career-high 94 tackles and 10 tackles-for-loss with three sacks.

Last year Bostic started all 13 games for the Gators for the second straight season and compiled 68 tackles, 6.5 tackles-for-loss, three sacks and two interceptions.

Bostic is the fifth of six Bears draft picks to agree to terms, following fourth-round linebacker Khaseem Greene, fifth-round tackle Jordan Mills, sixth-round defensive end Cornelius Washington and seventh-round receiver Marquess Wilson.

The only Bears draft choice who remains unsigned is first-round guard Kyle Long. The Ravens are the only other NFL team to sign any of their picks.

Bostic, who was selected with the 50th overall pick, insisted that he was never worried about getting his contract done and joked that he was too frugal to make any lavish purchases.

"I've pretty much got everything I need," Bostic said. "I'm cheap. I'm not really a big spender."