As he begins his second stint as the Bears' starting middle linebacker, rookie Jon Bostic feels much more comfortable in the position than he did a couple of months ago.
Bostic started the first three preseason games while veteran D.J. Williams was sidelined with a calf injury and has been thrust into the role again after Williams was lost for the season with a torn pectoral muscle Thursday night against the Giants.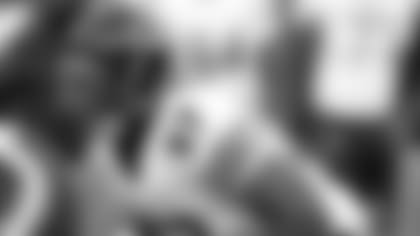 Jon Bostic is slated to make his first NFL start Sunday against the Redskins.
"I feel more ready each and every day," Bostic said Monday. "I'm learning the defense. I'm understanding it more, reacting faster and reacting quicker. I learn it more and more every day."
Seeing his first action of the season on defense against the Giants, the second-round pick recorded two tackles and one tackle-for-loss.
"I wouldn't really say anything was too difficult about it," Bostic said. "Every week I'm preparing like I'm the starter anyway. I wasn't too surprised about it. But now I've got to step up. I don't want any drop-off from D.J to me. I've just got to go out there and just prepare the best I can and go out there and do my best."
Despite Bostic's inexperience, coach Marc Trestman has complete confidence in the rookie from Florida.
"He hasn't spent a lot of time out there, but he has played," Trestman said. "It's the next-man-up situation. He doesn't have the experience certainly that D.J. has, but he's got speed and he's an explosive young man. It's just about working together with the guys and getting acclimated to the calls and the fits and things like that. But I think we'll do fine."
Bostic credits veteran linebackers Williams, Lance Briggs and James Anderson with helping him adjust to the NFL. The trio has played a combined 29 years in the league.
"I watch a lot of those guys," Bostic said. "I watch them more than they think I do. I ask them a lot of questions, but at the same time I'm watching them as well. I've learned a lot from all three of those guys."
The Bears selected Bostic in the second round of the draft (50th overall). He was the first linebacker the team has chosen in the first two rounds since some guy named Urlacher in 2000.
Bostic was a three-year starter at Florida, where he recorded 237 tackles, 19.5 tackles-for-loss, eight sacks and five interceptions in 51 games. Last season he started all 13 contests at middle linebacker, registering 68 tackles, 6.5 tackles-for-loss, three sacks and two interceptions.
The Bears ranked Bostic as the best athlete among middle linebackers in the draft and one of the fastest linebackers in the class. In addition to his speed and position flexibility, they viewed him as an intelligent player who called defensive signals and aligned his teammates at Florida.
Bostic had a stellar preseason. The 6-1, 245-pounder returned an interception 51 yards for a touchdown against the Panthers, delivered a highlight-reel hit that caused an incompletion versus the Chargers and led the Bears with eight tackles against the Raiders.
While Bostic would love to replicate those types of plays, he knows he must do so by focusing on executing his assignments without freelancing.
"You've got to let the big plays come to you," Bostic said. "You can't try to go out there and try to force a big play because that's when mistakes happen. You may try to jump out of your gap trying to make a big play, and if we're a one-gap defense and you jump out of your gap and there are two people in one gap, it leaves a seam inside and causes a big play for the other team. So it's really just going out there and just playing by our rules."
Cornerback Tim Jennings is eager to see how Bostic fares with the No. 1 defense.
"We're going to miss D.J. a lot," Jennings said. "He's played some good ball for us. But I'm excited about Bostic. I know he put in a show this preseason. I know a lot of guys are excited about Bostic, to see what he's going to be doing. You don't want D.J. to go down like that and miss the rest of the year, but this is just an opportunity for Bostic to let everyone know he's here for a reason."