Marc Trestman has been impressed with how Jon Bostic has performed with the first-team defense in the preseason. But the Bears coach isn't ready to anoint the rookie an opening-day starter.
"I am not going to use that term 'starting middle linebacker,'" Trestman said Monday after practice. "He has started in the last couple games and I think he has continued to grow and get better and shown that he can be a very good player in this league.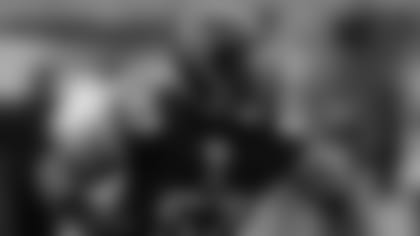 Rookie Jon Bostic has started each of the Bears' first three preseason games at middle linebacker.
"He is getting better. He is fitting in, and if he happens to be the guy who is that guy in Game 1 or Game 2 or whatever it is, I think he can grow into the position and be a more-than-sufficient middle linebacker in this league."

Bostic has had a stellar preseason. The second-round pick from Florida returned an interception 51 yards for a touchdown against the Panthers, delivered a highlight-reel hit that caused an incompletion versus the Chargers and led the Bears with eight tackles against the Raiders.

Even though Bostic appears to be the favorite to start Sept. 8 when the Bears open the regular season by hosting the Bengals, the coaching staff wants him to keep battling for the job.

"There's always competition," said defensive coordinator Mel Tucker. "It's 'compete-to-play, compete-to-stay.' There's nothing ever set in stone. You're only as good as your next play. That's what we preach to the guys. So every time out is important. Every practice is important, every meeting, every rep that we take in a game; it all means something."

Bostic spent the offseason working with the second-team defense behind D.J. Williams, a 10-year NFL veteran who has been sidelined since suffering a calf injury July 31 in training camp. Williams ran before Friday night's game in Oakland and could be ready to play before the season opener.

"He was working out at the game," Trestman said. "He's day-to-day, but we'll see where it goes. We're optimistic that he's going to be close. It's still day-to-day, but there is progress."

On the mend: It appears that defensive tackle Henry Melton is ahead of receiver Earl Bennett as both players continue to recover from concussions.

"Henry is into running," Trestman said. "Earl is day-to-day. I know he was with some of the medical people this morning, but I haven't checked. Henry ran today. He's going to run tomorrow and Wednesday and pick up that running significantly. That's where he is at this point."

Long-snapper Patrick Mannelly returned to practice Monday for the first time since injuring his rib while covering a punt in the Bears' preseason opener in Carolina.

"He was out there some, so we'll see how that goes," said special teams coordinator Joe DeCamillis. "Hopefully, Pat is doing well."

Stepping up: Three of the Bears' six draft picks are currently starting in Bostic, right guard Kyle Long and right tackle Jordan Mills. But they aren't the lone contributors among this year's crop.

Sixth-round pick Cornelius Washington, a defensive end from Georgia, was credited with a sack, tackle-for-loss, quarterback hit and pass defensed Friday night against the Raiders. Washington's sack came on Oakland's final drive, turning a third-and-10 situation into fourth-and-23.

"He did some good things," said defensive coordinator Mel Tucker. "He was in the backfield at the end. He ran well. He got some pressure on the quarterback. He did a nice job reading a screen. He did a good job in the run game. There were some bright spots for him in that last outing."

Teaching moment: The Bears have excelled on special teams throughout the preseason, but DeCamillis was not happy with Jacoby Ford's 62-yard kickoff return in the first quarter Friday night.

"We misfit it," DeCamillis said. "We've got to do a better job on that particular look. I'm glad it happened in the preseason rather than the regular season. I know that. It's good to coach off of. They're talented with that guy; No. 12's pretty good for them for sure. We've got to make sure we do a good job on that."