Out of football since being released by the Vikings Sept. 2, cornerback Zack Bowman was more than a little surprised to learn Tuesday morning that the Bears wanted to re-sign him.
"I was shocked when I got the phone call," Bowman said Wednesday, one day after inking a one-year contract. "But then I realized the opportunity that I had, so I was excited."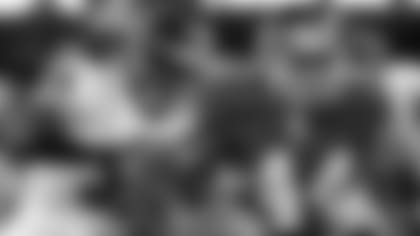 Zack Bowman strips the ball from Giants running back Ahmad Bradshaw during a 2010 game.
Bowman played four seasons with the Bears from 2008-11 after arriving as a fifth-round draft pick from Nebraska. He signed a one-year deal with the Vikings as a free agent in March, but was waived six weeks ago.

"I'm just coming back in here more appreciative of everything," Bowman said. "[Playing football] is something that I've been doing since I was in the fourth grade, and then not to be able to do it for a few weeks or a month, it sucks. But it's fun to be back."

Bowman was assigned the same locker he had occupied during his first stint with the Bears; it had been vacant since Sept. 15 when rookie Jeremy Jones was waived.

"It feels good to be back," Bowman said. "I came in here and had a big smile on my face just because I had an opportunity to see a lot of my old teammates, coaches and staff. The first person that popped into my mind was Chris Harris. He got [traded to the Panthers in 2007] and then ended up coming back [three] years later."

During his first stint with the Bears, Bowman appeared in 46 games with 16 starts, recording 117 tackles, seven interceptions, seven pass breakups, two forced fumbles, two fumble recoveries and 22 special teams tackles.

"When you get a chance to bring a player back that helped you do some things in Zack Bowman, you have to be excited about that," said coach Lovie Smith. "Whenever we feel like we can help our ballclub, getting another skill guy in like that, we have to jump on top of that."

Bowman's familiarity with special teams coordinator Dave Toub's schemes and expectations should enable the fifth-year pro to contribute immediately in that aspect of the game.

"It helps a lot," Bowman said. "I've only been gone since January, but it feels like a long time. Minnesota was very similar to Chicago. I sat in meetings today and basically knew everything."

Bowman also knows the Bears very defense. His most productive season was in 2009 when he started 12 of 16 games played and recorded 75 tackles and a team-leading six interceptions.

"Zack knows the defense," said nickel back D.J. Moore. "He knows how to play. He's played very well in the defense before. If he gets his number called, I'm sure he'll be ready."

Bowman was not among Minnesota's final cuts Sept. 1 when the Vikings reached the NFL's mandatory 53-man roster limit. But he was waived the next day.

"It was surprising, but they wanted to go in another direction," Bowman said. "I understood it's part of the game. I have no bad taste in my mouth. It was what it was."