Pro Bowl receiver Brandon Marshall told reporters Tuesday that he's frustrated with his conditioning following offseason hip surgery and is uncertain about his role in the Bears offense.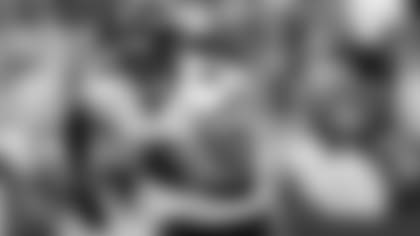 Brandon Marshall is still working his way back from offseason hip surgery.
"It's still early," Marshall said. "I'm still trying to figure out my role and my place in this offense, trying to get healthy and we'll see where it takes us. It's one of those things where I'm just trying to get healthy for Week 1. You've got to have a game plan coming off surgery, a third hip surgery. I'm not where I want to be right now. It's a little frustrating. But we'll see."
In his first season with the Bears last year, Marshall shattered team receiving records with 118 catches and 1,508 yards. He underwent arthroscopic surgery in January and was unable to practice until early June. The eight-year veteran has played in the last two preseason games against the Chargers and Raiders after sitting out the opener versus the Panthers.
"I think it's more of a conditioning [issue]," Marshall said. "It's one of those things where you may be rushed a little bit and some people might think I need to be farther on than where I am. So it's a little frustrating not being where I want to be right now and maybe being pushed a little bit. So we'll see.
"Mentally as far as understanding plays, I know where I'm supposed to be. I know where I'm supposed to line up. Now it's just getting a feel for it and having more experience in the offense. I think it's a great offense; great coaches, great players. We have all the pieces."
Asked about Marshall saying he feels "rushed a little bit," coach Marc Trestman said: "I know this: Brandon is working his tail off to try to get himself ready. He feels a sense of urgency because the season I s 10 days away. He's a highly-competitive man, an elite player.
"He can only comment on how he feels. He does have those moments where he can practice and work at a very high level. There have been days that haven't gone so well for him and then he'll bounce back. I don't know how he feels. I know he's trying to push himself through. I know he's doing everything he can to try and get himself ready."
As long as he's healthy, Marshall figures to be a key component of the Bears offense.
"If he plays every week, he's going to have a lot of catches and certainly be instrumental in the success of our offense and ultimately the success of our football team," Trestman said. "I don't see that changing."
Marshall led the Bears with four receptions for 38 yards including a 5-yard touchdown against the Chargers. But he struggled versus the Raiders, dropping three passes in the first half.
Asked whether he talked Marshall "off the ledge" after the Oakland game, quarterback Jay Cutler said: "He's going to take it hard for a couple of days and then he'll snap out of it and he'll be the guy we need next week. This week we don't need him, so he can stay on the ledge for a couple more days and then come back next week."
Cutler conceded that Marshall doesn't appear to be 100 percent.
"Conditioning-wise he's a little behind," Cutler said. "He knows where to be. It's just a matter of him getting out there and pushing his hip through things when it gets tight a little bit. I think once we start getting into a routine in game week and we shorten some of these reps, we'll really figure out exactly what routes we want him on and where we want him on the field. Hopefully things will sharpen up for his hip for him and he'll be able to make it go."