Ben Braunecker worked in a biochemistry lab at Harvard Medical School the past two summers and aspires to one day become a doctor who researches infectious diseases.
Although he clearly has a backup plan, that didn't make it any easier when the first-team Ivy League tight end was not selected in this year's NFL Draft.
"Projections had me anywhere from [Rounds] 4-to-6 and I sat there on draft day for about seven hours on my couch with an ESPN camera in my face watching every pick go by, and that definitely puts a chip on my shoulder," Braunecker said.
That chip will serve as extra motivation as Braunecker attempts to earn a roster spot with the Bears after signing with the team as an undrafted free agent.
"I want to make this team," said the Harvard product. "I'm driven to make this team and I'm really thankful the Bears gave me an opportunity."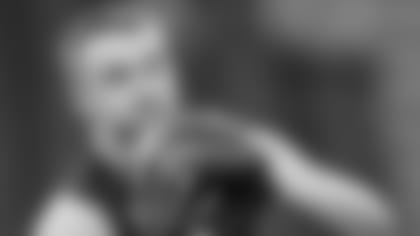 Bears rookie tight end Ben Braunecker caught 48 passes for 850 yards last season at Harvard.


That opportunity appears to be a golden one, with the Bears having traded starting tight end Martellus Bennett to the Patriots in March. The only experienced veteran remaining at the position is Zach Miller, who enjoyed a breakout year in 2015 after missing the previous three seasons due primarily to injuries.
The only other tight ends on the Bears roster are Rob Housler, Khari Lee, Marcus Lucas, Greg Scruggs, Gannon Sinclair and Joe Sommers.
"I think a nice, strong, reliable 'Y' tight end is what the Bears are looking for right now," Braunecker said, "so I'm just very thankful to be given the opportunity as an undrafted free agent to come into a system and to work with coach Frank Smith, who's great in my first impression at giving me the tools and the opportunity to be able to step in and hopefully make the roster."
Braunecker first started thinking about the possibility of an NFL career prior to his junior season at Harvard.
"I met with coach [Tim] Murphy, the head coach there, and he told me I had the skills to make it on the next level, but I really had to commit and dedicate myself, so that's what I did."
Braunecker's hard work paid off last season when he caught 48 passes for 850 yards and eight touchdowns, topping 100 yards in four of his final six games with 123, 133, 130 and 134.
The NFL, however, wasn't always on Braunecker's radar.
"You don't go to Harvard to be a professional football player," said the southern Indiana native. "I just did that because it was the best educational opportunity for me and it was the best of both worlds really because while I was there we won three straight Ivy League championships. But I still have aspirations to be a doctor post-football, so thankfully I have something to fall back on if this doesn't work out for me."
Braunecker was determined to stand out at this weekend's rookie minicamp and will maintain the same attitude when he joins veteran teammates on Monday.
"It's all about transitioning from my I'd say pretty humble college background playing in the Ivy League," Braunecker said. "It's definitely not the SEC, but we do play some pretty good football there. But it's all about transitioning my physicality, my footwork, my technique, and stepping that up to the next level."