Brian Urlacher has been enjoying the offseason in Arizona, fishing, golfing and spending time with his kids. But that doesn't mean he plans on taking a permanent vacation from football.
The star middle linebacker said Tuesday on "The Waddle & Silvy Show" on ESPN 1000 in Chicago that he intends to return for a 14th NFL season and hopes to re-sign with the Bears.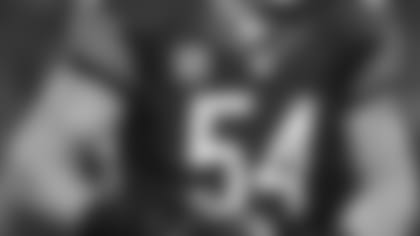 Brian Urlacher forced two fumbles and recovered two fumbles in 2012.
"Chicago's my home," said Urlacher, who is due to become an unrestricted free agent in March. "I'm going to be there whether I'm playing for the Bears or not. That's my home. I want to be there and hopefully we can work something out. But if not, I'll go somewhere else."

Asked if he would give the Bears a hometown discount, the 34-year-old said: "When you look at my age and everything, it's going to be hard to not give them a discount ... I'm not going to make what I was making in the past."

Urlacher developed a strong bond with coach Lovie Smith during their nine seasons together in Chicago. But even if Smith had landed another NFL head-coaching job, the eight-time Pro Bowler insisted that he still would have preferred rejoining the Bears.

"I want to be a Bear. I want to play for the Bears," Urlacher said. "That's my first choice. If it didn't work out, then yes, I would have definitely wanted to go play for him wherever he was. But if I have a chance to be a Bear, I want to be a Bear."

Urlacher has spent all 13 of his seasons with the franchise that selected him with the ninth overall pick in the 2000 draft out of New Mexico. He was chosen NFL defensive player of the year in 2005 and is the Bears' all-time leader with 1,410 tackles.

Urlacher is convinced that he can rebound from the knee and hamstring injuries that hampered him this season. After hurting his knee in the 2011 season finale in Minnesota, he sat out the entire offseason program and missed all four preseason games following arthroscopic surgery.

"It was a frustrating year," Urlacher said. "I never really got a chance to do any rehab for the offseason because it was too painful to do anything the whole offseason. It finally got better in June and July when I finally started running and doing things I could do to get stronger, but then in training camp I had that scope that set me back a little bit and I never really recovered from that."

After getting off to a slow start, Urlacher improved week-to-week. He returned an interception 46 yards for a touchdown in a Week 9 win in Tennessee and led the Bears with 88 tackles before suffering a hamstring injury in a Week 13 overtime loss to the Seahawks that forced him to miss the final four games of the season.

"I started out pretty rusty and I felt I got better as the season went on," Urlacher said. "I have no pain now, so that's a good thing. And it felt good during the season. On Sundays I felt great and that's really all that matters. During the week it would get sore here and there, but it felt good on Sundays and that's really all I cared about.

"At times last year I felt like I was playing pretty well. I was just so inconsistent. I was never really in football shape. It was very frustrating for me to be out there and just not be able to do what I normally do. I think I can get back, just through training in the offseason and practice."