BOURBONNAIS, Ill. – For the first time since he joined the Bears in 2003, Lance Briggs is lining up at linebacker without close friend Brian Urlacher right next to him.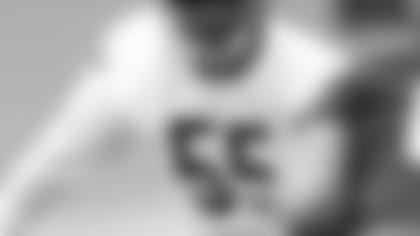 Lance Briggs will be lining up at linebacker without Brian Urlacher for the first time since he joined the Bears in 2003.
"It's tough, but we're all grown men," Briggs said Friday. "We have to continue to move on."
After Urlacher retired during the offseason following 13 illustrious seasons with the Bears, Briggs volunteered to call defensive plays, something the 11-year veteran hasn't done since college.
"The biggest adjustment is recognizing every alignment, making all the checks," Briggs said. "It's my job to get everybody aligned and ready to play.
"It's not easy. You just have to get used to it. I was real comfortable in my role before. Very comfortable. Now I'm getting comfortable with being uncomfortable."
Briggs looked comfortable in that role in the Bears' first training camp practice Friday, with one exception. He made the wrong call on one play, and then was ribbed about it by teammates.
"I got the play in to my ear and the huddle had already broken," he said. "I didn't hear the call. So I just called the play, a random play, and everybody looked at me with a puzzled look. So I had to eat it. I had to eat that one. Everyone was going to make fun of me, and that's fine. You move on."
While there may be some bumps in the road early in training camp, the Bears expect Briggs to make a smooth transition in that role. After all, he's a seven-time Pro Bowler who has led the team in tackles four of the last five years.
"Brian was a special guy, so it's hard to replace that," said safety Chris Conte. "But Lance is doing a great job. It's different, that's for sure. He keeps us all on our toes, but it's good. He's doing a good job and we're transitioning to him well."
The Bears are transitioning to a new head coach in Marc Trestman. And while Briggs wasn't happy that Lovie Smith got fired, the star weakside linebacker fully supports the new regime.
"I am buying in," he said. "We're all buying in. I'm all in, all in to the program. It's working out. Right now we're just grinding. We've got to prepare for a championship run. It's grind time for us.
"He's a good coach. I can tell you he's a great man. The things that he wants out of us he's getting out of us. We have a fast-paced practice. That's the way the season's going to run. He knows he's got some great players here in Chicago. It's just about directing them in the right direction."
From a personal standpoint, Briggs is looking to build on an excellent 2012 season. He registered 128 tackles, topping the century mark for the ninth season, third most in franchise history behind Urlacher (11) and Hall of Fame middle linebacker Mike Singletary (10).
Briggs also scored two touchdowns in 2012, returning interceptions 74 yards in Dallas and 36 yards in Jacksonville in back-to-back wins. He now has five career interception return TDs, third most in NFL history among linebackers behind Bobby Bell and Derrick Brooks, who have six apiece.
While Briggs will never forget special former teammates and coaches, he's focusing solely on winning the Super Bowl rather than reminiscing about the past.
"It's a new year," he said. "We have an opportunity to win a championship. Coach Trestman is our coach, so he's the man who's going to lead us.
"The values and things Lovie instilled in us will always be with us. We will carry that over. Lovie will live through us. Brian Urlacher, Israel Idonije, Mike Brown; all those guys will continue to live through us. But right now our focus is to get ready for this championship year."