Seven-time Pro Bowler Lance Briggs has some advice for fellow linebacker Jon Bostic as the rookie prepares to make his first NFL start Sunday against the Redskins.
"You don't want to think too much when you're on the field," Briggs said. "That's what practice is for; getting that kind of stuff down, getting your keys, your reaction, being as sharp as you can. Once you get into the game, you just read and react. You allow your athletic ability to take over."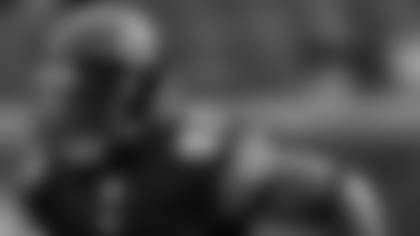 Jon Bostic is set to make his first NFL start Sunday when the Bears visit Washington.
Bostic will start at middle linebacker in place of veteran D.J. Williams, who is out for the season after suffering a torn pectoral muscle in last Thursday night's win over the Giants. A second-round pick from Florida, Bostic worked with the No. 1 defense throughout training camp and the preseason while Williams was sidelined with a calf injury.
Briggs made the first start of his career in the fourth game of his rookie season in 2003.
"Lucky for me I didn't play [middle linebacker] and I didn't have to make those kinds of calls or adjustments," said Briggs, who is calling plays for the first time in his career this year following Brian Urlacher's retirement. "I played [strongside] in base and [weakside] in the nickel packages.
"For me, my job, I just thought regardless of what I knew and what I'm doing or not, just run as fast as I can and get to the ball, and that's really how I played ball. And luckily I played [strongside] so I was covering up the tight end and just running from behind a lot; a lot of effort plays."
Injury report: Cornerback Charles Tillman (knee) and tight end Martellus Bennett (knee) were limited in practice Friday and listed as questionable, but both are expected to play Sunday.
Linebacker James Anderson (back), defensive tackle Stephen Paea (toe) and safeties Anthony Walters (hamstring) and Major Wright (knee) are all probable.
The Bears on Friday officially placed Williams on injured reserve and promoted linebacker Jerry Franklin from the practice squad to the active roster. Franklin, who appeared in the final three games of last season with the Bears, is expected to contribute on special teams Sunday.
Inside job: Even with Paea's return, Corey Wootton told reporters that he will remain at tackle Sunday for the third straight game. A natural defensive end, Wootton was moved inside after tackles Henry Melton and Nate Collins were lost for the season with torn ACLs.
"Corey has done a nice job for us," said defensive coordinator Mel Tucker. "He's going in there and played hard and played with technique. He's done everything we've asked him to do. We feel like he's improving in that aspect. That's his role. He's coming through for us."
Draft steal: Redskins coach Mike Shanahan, who served in the same position with the Broncos when Brandon Marshall was a rookie in 2006, recalls the receiver making an immediate impact.
"[Cornerback] Champ Bailey came to me the first time we practiced with Brandon Marshall and said, 'How did we ever get this guy in the fourth round?'" Shanahan said.
"He's a difference-maker. Brandon can catch the ball. He's very physical. He's going to beat bump coverage. He's going to go up for the ball and make big plays."