Linebacker Lance Briggs (ribs) and safety Chris Conte (shoulder) have both been ruled out of Sunday's home game against the Dolphins, but it appears that three other Bears starters will return to action.
Linebackers D.J. Williams (neck) and Shea McClellin (hand) and left tackle Jermon Bushrod (knee/ankle) all practiced without restrictions Friday and were listed as probable on the injury report, meaning there's a 75 percent chance they'll play.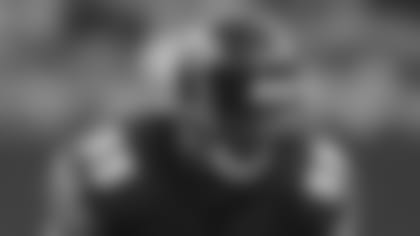 Seven-time Pro Bowl linebacker Lance Briggs leads the Bears with 44 tackles.
With defensive coordinator Mel Tucker saying Wednesday that the injured starters likely would regain their jobs when healthy, Williams and McClellin are expected to start Sunday against the Dolphins. The third linebacker spot is up in the air, however, with Briggs out and Jonathan Bostic (back) questionable after missing last Sunday's win over the Falcons.
"We do have options," said coach Marc Trestman. "We're really going to see what the next couple days bring. We feel good because we're getting people back. Certainly we would want to have Lance back and Jonathan back. We'll see where we are next week with Lance and we'll see where we are over the weekend with Jonathan."
Briggs will miss his second straight game. Asked if the seven-time Pro Bowler has a broken rib or torn cartilage, Trestman said: "He has some soreness in his ribs. He's not ready to play. That's exactly what the trainers have said to me. There doesn't seem to be anything else going on.
"When you're making contact on every play, ribs are not the place you want to have soreness. I'll leave it at that. We're hoping he's close and we're hoping that he'll be ready to go next week."
Briggs will have now missed nine games in the past season and a half after sitting out only four contests in his first 10 years with the team from 2003-12. Asked about the linebacker's frustration level, Trestman said: "I've chatted with him a couple of times this week. He wants to be out there. He wants to play. He's involved in the meetings. He's helping out as much as he can.
"I'm sure there's some frustration in there. [But] he's not making it about frustration right now. He's just trying to get himself better. He was out here running today. He's been working hard inside to keep his conditioning and doing the things that the trainers have asked him to do. We're hoping that things will mend this weekend and he'll be back next week."
McClellin is expected to return after missing the last four games. The converted defensive end recorded seven tackles in each of the first two contests of the season.
"Shea will be out there," Trestman said. "He'll be up and ready to work. We'll work the rotation as we see fit. We're excited; he had a good week of practice."
Conte will be inactive for the first time this season, though the four-year veteran has had to exit four of the Bears' six games with head or shoulder injuries.
"He's not ready," Trestman said. "It's not about resting. He's been out here running and working. He came out here today and ran hard. It's just about that shoulder mending enough where the trainers release him to practice."
Rookie Brock Vereen was inserted into last week's game after Conte hurt his shoulder and could make his first NFL start Sunday against the Dolphins.
"[Vereen] had a very good week of practice," Trestman said. "He's communicating better. He's where he's supposed to be. He's done a good job for us on special teams.
"He'll be part of that rotation and we're excited to see him play. He's ready to play. He's certainly been in some key games this year right at the end where we all know where he's had to make some plays. So this is just part of his growth. He's had a lot of reps and he's ready to go."
With Bushrod and right tackle Jordan Mills (foot) both listed as probable, the Bears are expected to start their entire first-team offensive line for the first time since the season opener. Bushrod has missed the past two games with knee and ankle injuries he sustained in practice.
"It's always exciting to get your team back healthy and people come back," Trestman said. "We're excited to get [Bushrod] back. He did a great job of getting himself ready."
Special teams contributors Sherrick McManis (knee/quad) and Ahmad Dixon (hamstring), both listed as probable, are expected to return as well.