The Bears defense didn't receive much help Sunday in Detroit from a Chicago offense that committed four turnovers or a special teams unit that allowed a 57-yard punt return.
But none of that mattered to linebacker Lance Briggs, who was sickened that the Lions were able to roll up 40 points in a win over the Bears that left the two teams tied atop the NFC North.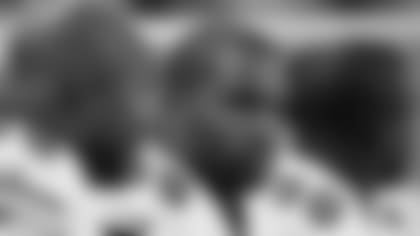 Linebacker Lance Briggs sits on the Bears bench late in Sunday's 40-32 loss to the Detroit Lions.
"It's kind of disgusting to see 40 points up on the scoreboard regardless of what went on and how it went up there," Briggs said. "Defensively, we haven't prevented a team from scoring more than 20 points this year yet, and that's not like us.
"It doesn't matter what happens; if we have a sudden change or they have to drive the length of the field, it's our job to get off the field. It's our job to either get off the field or turn the ball over to create another opportunity for our offense. So that's just disappointing."
Prior to Sunday, the Lions had generated more than 24 points only once in 28 games against the Bears since 1999-a 37-27 victory on Sept. 30, 2007 at Ford Field.
Detroit scored on six straight possessions Sunday with three field goals followed by three touchdowns. The three TDs came in a 3:26 span and were part of a 27-point second quarter that enabled the Lions to take a commanding 30-10 lead.
As the Bears prepare to host the Saints Sunday at Soldier Field, they'll work on trying to eliminate the gap issues and missed tackles that plagued them against the Lions.
Last Sunday at Ford Field, Detroit running back Reggie Bush rushed for 112 yards on 11 carries in the first half, including a 37-yard touchdown as well as runs of 17, 16 and 15 yards.
"Probably the most disappointing part of watching the film was that a lot of their big runs came against eight-man fronts," Briggs said. "We weren't even in cover-two.
"When you talk about an eight-man front, it means that somebody wasn't in their gap or something happened for somebody to not be in their gap."
Missed tackles also made it a long day for the Bears, who have allowed at least 21 points in each of their first four games for the first time since 2003.
"It's something that we've got to get better at," said coach Marc Trestman. "We're going to go back to work on it and just continue to work through it. We didn't expect to be the best tackling team at the end of Week 4, but we've got to get better as we move along and we're going to do that."
With Bush gashing the defense up the middle, it appeared that the Bears sorely missed tackle Henry Melton, who was placed on injured reserve last week with a torn ACL. Nate Collins made his first NFL start in Melton's place and recent acquisition Landon Cohen also rotated in.
"You're going to miss Henry Melton," Trestman said. "That's always going to be significant. He's one of the best players that we have on our football team at what he does so, you're going to miss him. But Nate stuck it out, Landon stuck it out, Corey [Wootton] went inside and helped out, and the guys fought."
The defense improved in the second half, holding the Lions offense to just three points while producing two takeaways and limiting Bush to 27 yards on seven carries.
"We did some good things," Briggs said. "I'm not about to dwell on the bad stuff. Really it was a tale of two different halves. In the second half, we made some huge stops and gave our offense and our team an opportunity to have a chance at the end of the game.
"Hopefully next time, or if there is another time, we turn it around earlier than the second half. We play better in the first half. We give ourselves more opportunities to win."
Roster moves:The Bears on Tuesday signed safety Sean Cattouse to the practice squad and terminated the practice squad contract of running back Harvey Unga.
Cattouse, a Chicago native who attended Hubbard High School, entered the NFL in 2012 with the Chargers as an undrafted free agent from Cal, where he played with Bears safety Chris Conte. Cattouse was a three-time all-conference selection, playing in 49 games with 26 starts and recording 185 tackles, seven interceptions, 17 pass breakups, seven tackles for losses, two sacks and two fumble recoveries.