Bears linebacker Lance Briggs will return home to Sacramento to host the inaugural Pins for Kids Charity Golf Tournament Friday at Rancho Murieta Country Club.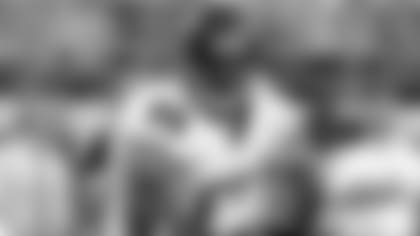 Lance Briggs was selected by the Bears in the third round of the 2003 NFL Draft.
The event will benefit the Briggs4Kids Outreach Program as well as Teen Center USA, two charitable organizations that create positive opportunities for children.

Registration begins at 8:30 a.m., followed by a shotgun start at 10 a.m. Dinner will start at 4 p.m. in conjunction with awards and a raffle. For more information, contact Leigh Dias at (916) 226-2905.

Briggs has been selected to seven Pro Bowls in 10 seasons with the Bears. Having started 153 of 156 games played, he has recorded 1,414 career tackles, 12 sacks, 15 interceptions, 16 forced fumbles, eight fumble recoveries and 83 tackles-for-loss.

Izzy appearance: Bears defensive lineman Israel Idonije is slated to discuss celebrity diplomacy as part of a Young Professionals Program Monday night at the Blackstone Hotel in Chicago.

The nine-year veteran created the Israel Idonije Foundation in 2007 to inspire underserved communities by providing programs focused on social and emotional life skills.

Idonije has been widely recognized for both his humanitarian work as well as his athletic ability. He has received the Ed Block Courage Award, the Youth Advocate Award from the Common Ground Foundation and the Local Hero Award from Bank of America.

Idonije has started 50 of 134 games played since joining the Bears in 2004. He has registered 262 tackles, 28.5 sacks, six forced fumbles, four fumble recoveries and 24 tackles-for-loss.

Mayor Mongo: Former Bears defensive tackle Steve McMichael is hosting a fundraiser Tuesday night at the Old Town Pour House at 1419 N. Wells in Chicago to support his campaign for mayor of Romeoville.

McMichael's former coach, Mike Ditka, and teammates Dan Hampton, Gary Fencik and Matt Suhey are among those scheduled to attend. Tickets to a private reception from 5-6 p.m. cost $150, while general admission tickets from 5:30-7:30 p.m. are $100.