The Bears on Friday placed veteran linebacker Lance Briggs on injured reserve with a groin injury, meaning that he will miss the final four games of the season.
Briggs sustained the injury in last Sunday's win over the Buccaneers.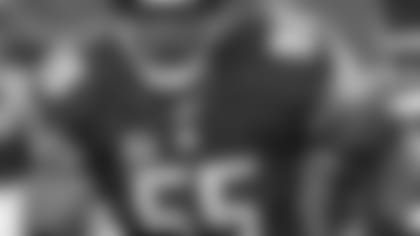 Bears linebacker Lance Briggs was selected to seven straight Pro Bowls from 2005-11.
Since being selected by the Bears in the third round of the 2003 draft out of Arizona, Briggs has been voted to seven Pro Bowls. His 170 starts are the fifth most in franchise history behind Walter Payton (184), Olin Kreutz (183), Brian Urlacher (180) and Mike Singletary (172).
Briggs became a starter four games into his rookie season in 2003 and maintained a stranglehold on the position for more than a decade, starring alongside his close friend, Urlacher. The two linebackers helped the Bears win three division championships and one conference title.
Briggs' six defensive touchdowns are the third most in Bears history and his five interception return scores are the second most in franchise annals and tied for third most among NFL linebackers.
He led the team in tackles in five seasons (2004, 2008, 2009, 2011 and 2012), compiling at least 100 stops in nine straight years from 2004-12. In 12 seasons he has recorded 1,564 tackles, 95.5 tackles-for-loss, 16 interceptions, 15 sacks, 19 forced fumbles and seven fumble recoveries.
In eight games this season Briggs had 63 tackles, 2.5 tackles-for-loss, one interception, one forced fumble, two pass breakups and one quarterback pressure.
Before missing seven games last year with a shoulder injury, Briggs had been incredibly durable, sitting out just four games over the first 10 seasons of his career from 2003-12.
Briggs, who is in the final year of his contract, conceded earlier this month that "this is probably my last year as a Chicago Bear."
"It's the last year of my deal," Briggs said at the time. "It's not like I'm magically going to show up after this year and they're going to open the gates up for me. I've talked to my buddy, [former Bears defensive end] Alex Brown. Those gates are closed when you're a free agent.
"I know the reality of it and I'm proud of all the years I've had here. It's been great. I couldn't have asked for a better situation."